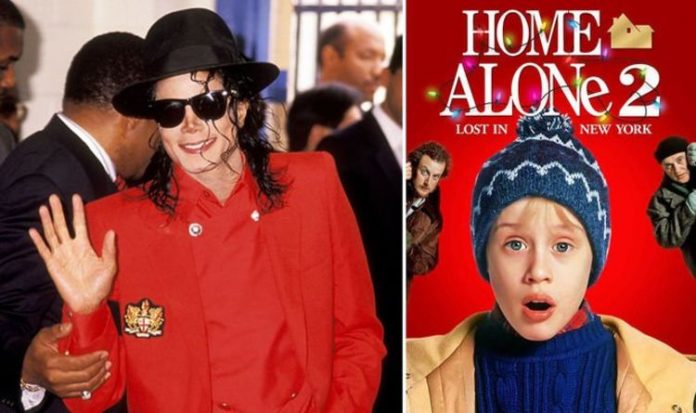 Home Alone 2: Lost in New York is perhaps one of the best-loved Christmas movie sequels. While in more recent years the film's cameo of future President Donald Trump has been highlighted and parodied on social media. But did you know that Michael Jackson himself visited Macaulay Culkin on the set of the movie?
Jackson and Mac were famously friends and now a new interview shares how the King of Pop would visit the 11-year-old star on the 1991 set.
In a new interview, Home Alone 2 set decorator Daniel Clancy said: "The only celebrity that we had was Michael Jackson [who] came and visited the set, but that was in the second one.
"No one knew he was coming, this limo pulled up and Michael Jackson pulled out with a mask on.
"That was freaky. Macaulay Culkin got in the limo and they went to dinner, and they came back."
READ MORE: Home Alone came SECOND in the most popular Christmas movies of 2020
Speaking with Metro.co.uk, Clancy added: "It was strange. It's like, 'What happened just there?' That was wild, and none of us knew.'"
But this wasn't the only time that Jackson showed up on the Home Alone set.
According to Buzz McCallister star Devin Ratray, the singer surprised everyone during a rehearsal on a random Saturday at the movie's famous Chicago home.
The 43-year-old said how it was 7:30am and Mac found him among the crowds of cast and crew and asked if he wanted to meet somebody.
Then, inside in the actual living room set of the Home Alone movies, Jackson sat with the two boys as Ratray interviewed them both.
The Buzz actor highlighted how this was the room where Kevin looks out the window at the end of the first movie and sees Old Man Marley hug his granddaughter.
He said of meeting the King of Pop: "That was a surreal Saturday, I'll tell you."
Meanwhile, Macaulay Culkin, who turned 40 this year, has shared the "creepy" request he gets from Home Alone fans.
Appearing on Ellen in 2018, Culkin spoke of watching Home Alone as "background radiation at Christmas time."
"I've had people who want to sit down and watch it with me, which is like both flattering and creepy.
"When I'm watching it…I'm remembering 'that' day on set…I can't watch it the same way other people do."
He also admitted that he refuses to do the Home Alone hands-to-face gasp when fans ask, saying at the time: "It's like, 'No. I've already been there, done that already.' I'm 37 now okay.'"