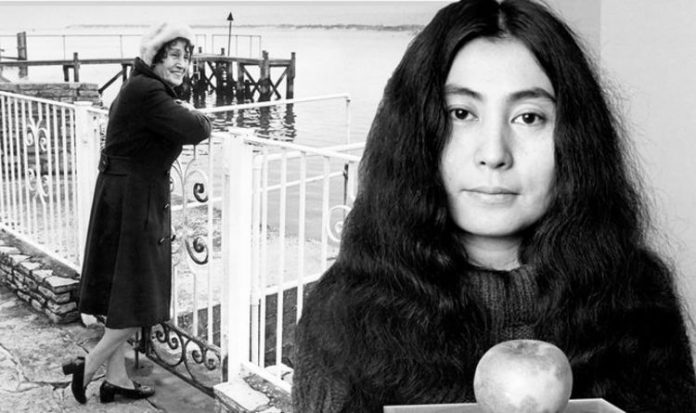 John Lennon was married twice: first to Cynthia, who he met as a fellow student in Liverpool, and later Yoko Ono, a Japanese artist who truly changed the course of his life. His aunt Mimi, who raised him, had very clear opinions on his choice of bride, as well as his profession and other aspects of his life. But what did Aunt Mimi really think of Yoko, who fans claimed 'broke up' The Beatles?
John Lennon met avant-garde artist Yoko Ono in 1966, and the pair began corresponding.
He and then-wife Cynthia subsequently split in 1968, with reports suggesting she had returned from a holiday to find the Beatles star in their home with Yoko.
John and Yoko married in 1969, but separated in 1973, during which time John began a relationship with May Pang, his personal assistant.
The pair were together for between a year and 18 months when, in early 1975, John went to meet Yoko and the pair got back together, with Yoko neglecting to tell May or return home to explain.
READ MORE:  Bette Midler movies: How many movies has Bette Midler been in?
Yoko and John were then together until he was shot outside their home at The Dakota in New York on December 8, 1980.
Speaking to John Lennon expert David Stark, who met The Beatles star many times as a teenager, Aunt Mimi had one way to deal with Yoko after John's death, showing how she felt about John's second wife.
David said, after meeting his aunt Mimi: "She [Yoko] wasn't exactly her favourite person, because she still had a soft spot for Cynthia…
"One thing which is in the book, which was quite amusing and happened on this Saturday evening.
"We were sitting there and we're going through John's stuff, and suddenly the phone rings.
"And Mimi says, 'Oh, I better. I better answer that. Just in case it's Yoko calling from New York,' which she occasionally did…
"She picks up the phone, and she goes, 'Oh, hello?' in a frail accent.
"And then she suddenly realises it was just a friend of hers, and talked as her usual self. So that, for me, that said it all."
DON'T MISS
Aunt Mimi's 'fake' accent showed how she wanted to be perceived by Yoko after John's death, which is indicative of their relationship.
However, Mimi was always believed to be very strict with John, so likely this carried through to her views of his wives.
David continued: "In terms of her reputation, I'm sure she was strict with John as a young lad, and, I think he had the typical 50s upbringing in a way.
"They were very much a middle class family, not working class at all, and John had a respectable upbringing, for sure.
"But yes, she was probably quite strict, but he got into all sorts of scrapes and of course, becoming a bit of a tearaway eventually, which didn't help."