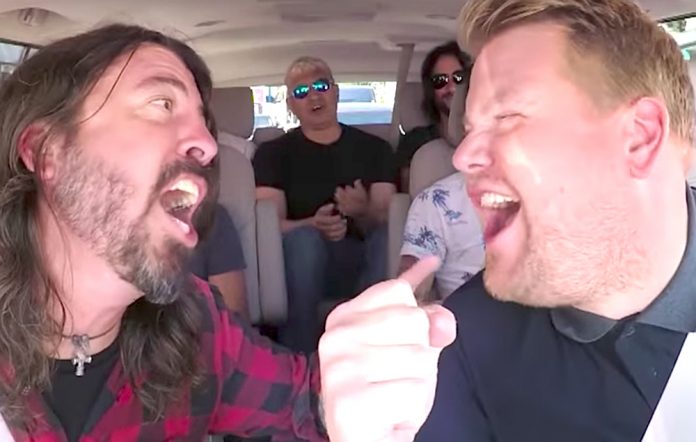 [ad_1]

The Foo Fighters frontman reveals more about what James Corden said to him after their appearance on the show last year
Dave Grohl has revealed that James Corden sent him a text after the band described their experience on Carpool Karaoke last year as "uncomfortable".
Speaking exclusively to NME last year, guitarist Pat Smear said: "By hour three in [the] dude's car it got less fun…it kinda went on. When we stopped at Guitar Centre, that felt like we were done, but it was like 'this is halfway'."
Describing the experience to NME as "a little uncomfortable", the band belted out hits 'All My Life', 'Best Of You' and 'Learn to Fly'. Afterwards, Smear said "singing other people's songs would have been easier."
Grohl added: "I could do that all day. We did The Ramones, and Rick Astley, but they didn't use it. I don't know why."
Now, in an interview with The Sun, Grohl revealed that Corden sent him a text soon after his comments.
"I got a fucking text from him [the next day]," the frontman said. "[James] was like, 'What the fuck, dude?' I was like, 'Oh my god, oh my god, oh my god!"
Grohl told The Sun that he tried to explain his thoughts more clearly.
"What we were trying to say was it was uncomfortable to sit in a car and try to sing our own songs. If we were singing Queen songs or Led Zeppelin songs or Beatles songs, it would have been fine…but to sit there and sing your own songs…we felt weird about it."
Grohl added James was "a sweet guy" and that they didn't have a terrible time.
The Foo's are currently on tour and will play two dates in London this week on June 22-23 at London Stadium.
[ad_2]