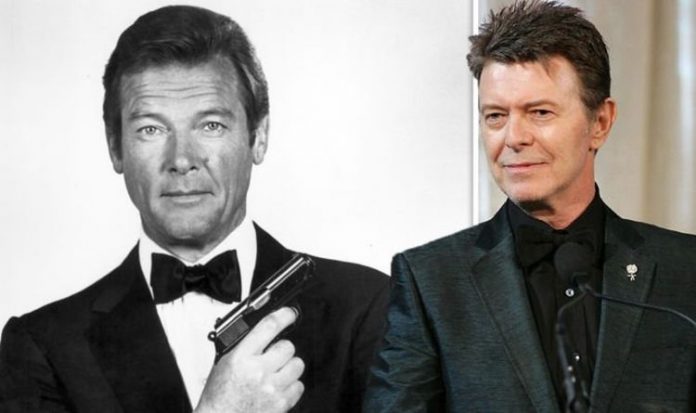 Over the course of the past 50 years James Bond has battled against a collection of eclectic villains. These horrifying foes have famously been played by even more exciting actors, including Mads Mikkelsen, Dave Bautista, and Christoph Waltz. However, it has now been revealed fans missed out on watching David Bowie play one of 007's biggest enemies from over the years.
Bowie was not a complete stranger to cinema, as he played the iconic Jareth, King of the Goblins in the 1986 fantasy movie Labyrinth.
His legendary performance has gone down in history as one of his most successful ventures.
Just a year before, in 1985, Bowie turned down the opportunity to play Max Zorin in A View to a Kill.
A View to a Kill is one of Roger Moore's most recognisable Bond movies.
In the film Moore is pitted against Zorin, who is played by the brilliant Christopher Walken.
READ MORE: No Time To Die delay: James Bond release date 'pushed back to November'
Walken has become one of 007's most historic enemies, with his memorable bleached-blonde hair and erratic persona.
Unfortunately for Bowie fans, there were a few reasons he reportedly turned the role down.
According to Screenrant, Bowie may have been caught up in the filming of the aforementioned Labyrinth, preventing him from appearing in A View to a Kill.
Another supposed reason is that he was actually avoiding Moore entirely.
Because of this, Bowie apparently turned the job of Zorin down, instead leaving the role to Walken.
This news may sadden fans, but some exciting James Bond news could be on the way.
After the upcoming No Time To Die is released on April 2, 2021, Daniel Craig will step down from the role.
It has since been rumoured that a number of British actors will be taking over from Craig.
The latest odds have suggested that new Netflix star Regé-Jean Page will be the most likely to take the role.
Page recently appeared in the hit series Bridgerton, and left fans yearning for him to take over as the international spy.
But recently, a Bond expert, Dr Ian Kinane, explained that Page does have some obstacles in his way.
Dr Ian explained: "As a young British actor who has suddenly risen to prominence in a (once again, suddenly) very popular Netflix show, people are paying attention. I think the reaction might be somewhat knee-jerk, a premature shout… I think part of the premature reaction is about the physical desirousness of Regé-Jean Page as a leading man.
"Of course, it would be preferable if the future James Bond could act and not simply be a coat-hanger for fine tuxedos."
READ THE ORIGINAL REPORT HERE