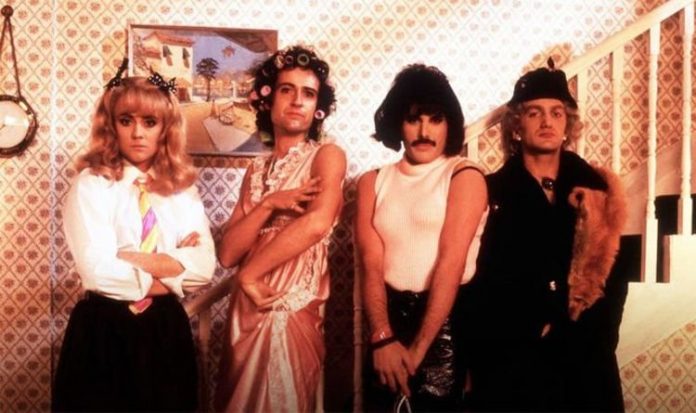 It's been a surreal and tough year for the UK as the pandemic continues on. And as New Year's Eve approaches, 1500 Brits have been polled by Sonos to find out what song we most want to see out 2020 with. Well, it turns out it's not Auld Lang Syne but Queen's I Want To Break Free which has come out on top with 32 per cent of the vote.
Just behind Freddie Mercury's band was The Killer's Mr Brightside on 22 per cent and Journey's Don't Stop Believing on 20 per cent.
The survey also found that music remains vital to British lives despite lockdown changing our routines.
In fact, 78 per cent of the UK say music lifts their spirits and almost two-thirds felt that a good playlist makes of breaks a party.
Check out the full Top 10 of songs to see out 2020 with on New Year's Eve below.
READ MORE: Freddie Mercury saw Wayne's World says Brian May 'He LAUGHED so much'
I Want To Break Free originally features on Queen's 1984 album The Works.
While over the years it was a regular feature of the band's live tour set, with Freddie even dressing in drag on stage.
Of course, almost more famous than the song itself is its iconic music video.
Proposed by Taylor, the band ended up cross-dressing in a hilarious parody of Coronation Street.
Directed by David Mallet, the footage was shot at Limehouse Studios and cost around £100,000 to make.
The Queen drummer said of the music video at the time: "We had done some really serious, epic videos in the past, and we just thought we'd have some fun.
"We wanted people to know that we didn't take ourselves too seriously, that we could still laugh at ourselves. I think we proved that."
I Want To Break Free reached No 3 in the UK and the song was certified silver with over 200,000 copies sold, while topping the charts in Austria, Belgium and the Netherlands. The track also features on the second Queen's Greatest Hits album.