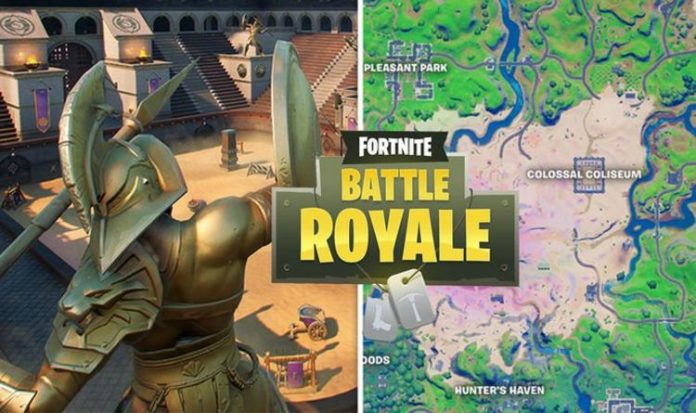 The new Fortnite Season 5 map has been revealed by Epic Games, alongside a host of new POIs (points of interest).
Update 15.0 can be downloaded now for PS5, PS4, Xbox Series X, Xbox One, Nintendo Switch, PC and Android.
Once the game comes back online, players will notice one or two new areas to explore.
The biggest and most prominent new area is Zero Point, which is full of crystalline shards.
"New hunters means new locations from beyond the Loop," reads an Epic post.
"Battle for honour in an ancient arena, sharpen your survival skills in the jungle, and explore the shifting crystalline sands flowing from the exposed Zero Point."
As you can see from the images below (the full map can be found towards the bottom of the page), the Zero Point area is also home to the Colossal Coliseum, which is a brand new gladiator arena where players can do battle.
Don't be surprised if this becomes a popular drop point for players looking to get in some quick kills when games begin.
Elsewhere, fans can explore the brand new Desert Pancakes area, which has a bit of a Wild West look and feel.
Fans can also check out the new Hunter's Haven POI, although at first glance it doesn't look that exciting.
In the northern area of the map is Stealthy Stronghold, which is likely the jungle location mentioned by Epic Games.
Then there's the Salty Towers POI, which can be found on the edge of the Zero Point area.
Pleasant Park is also back to its former glory, after being previously taken over by Doctor Doom.
Other returning areas include Coral Castle, Craggy Cliffs, Sweaty Sands, Holly Hedges and Weeping Woods,
That's on top of Slurpy Swamp, Misty Meadows, Lazy Lake, Catty Corner, Retail Row, Dirty Docks and Steamy Stacks.
You can see the full Season 5 map below. Expect the map to change and evolve as the season goes on.
As part of the new season, Battle Pass owners will be able to unlock skins including The Mandalorian from Star Wars.
"Agent Jones has brought in the greatest Hunters across Realities to the Island," reads the official description.
"Pick up the Season 5 Battle Pass and unlock Mancake the fighting Flapjack, Mave the shapeshifter and the ultimate bounty hunter, The Mandalorian, with his companion The Child."
As previously reported, the new season also coincides with the launch of the Fortnite Crew subscription service.
Priced at £9.99 a month, Fortnite Crew subscribers will always have access to the current Battle Pass, as well as exclusive rewards.