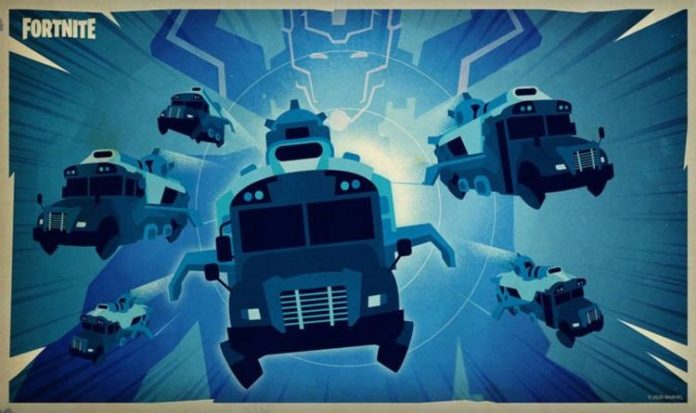 Today's Fortnite Season 4 event is rumoured to be the biggest ever featured in the game's history.
And with so many big live events to draw from in the past, that should mean that Fortnite Season 5 will begin with a bang.
Kicking off later today at around 4pm ET, if you live in the United States, and 9pm GMT, if you live in the UK, there's going to be plenty of interest in what will be included.
Epic Games has confirmed that Marvel's Galactus character will be playing a major role and that no doubt means some other famous characters will be popping up too.
Recent reports suggest that parts of previous events have been brought back into the game files for the live event.
Some claim this will be so that features from other events can play a role at the end of Fortnite Season 4.
However, Epic Games themselves have stayed quiet on what they have planned for today, apart from confirming the massive entity about to enter the island's atmosphere.
"Uhhh… is that the Devourer of Worlds on the horizon? That's not good," a message from Epic Games reads.
"It was only a matter of time. Galactus is closing in on the Island and the fate of all Reality lies in the balance. Join the ultimate fight against Galactus in the one-time-only Nexus War finale event on Tuesday, December 1 at 4 PM ET."
Epic Games has warned that gamers will need to get their places in Fortnite servers well before the event kicks off to avoid issues, telling fans:
"We've taken measures to ensure more people can attend the event, but we still recommend everyone log into Fortnite at least 60 minutes prior to the event start. The event playlist is expected to go live 30 minutes prior to the start time."
WHEN IS FORTNITE SEASON 5 COMING OUT?
According to the Epic Games website, the Fortnite Season 4 Battle Pass ends on Tuesday, December 1, 2020.
And the same site also reveals that Fortnite Season 5 will be coming out soon after, with Wednesday, December 2, confirmed as the official release date.
The news was part of the Fortnite Crew announcement, a new subscription service that provides the following perks:
Battle Pass Included for the full Season – As a member of the Fortnite Crew, you'll always have access to the current season's Battle Pass.
1,000 V-Bucks Each Month – Fortnite Crew members will receive 1,000 V-Bucks every month. Spend it on your favorite Item Shop content.
Get A New Monthly Crew Pack! – Get an exclusive Fortnite Crew Pack, an always-new Outfit Bundle that only Fortnite Crew members get.
Crew Packs and the items they contain are only available to Fortnite Crew subscribers. Previously released items may be made available again to Crew members at a later date, but they will never be sold to non-Crew members or given away to non-Crew members.
A set release time for Fortnite Season 5 has not been announced but we would expect some news to be shared by Epic Games in the coming hours.
The start of a new Season always comes with a big Fortnite update and we don't expect things to be different with Season 5.
Gamers can expect servers to be taken offline for a number of hours across all platforms and will only become playable again after a patch has been released.
We have no idea at this point how big a download it could be but Fortnite fans will know the drill of waiting for more information from Epic Games.