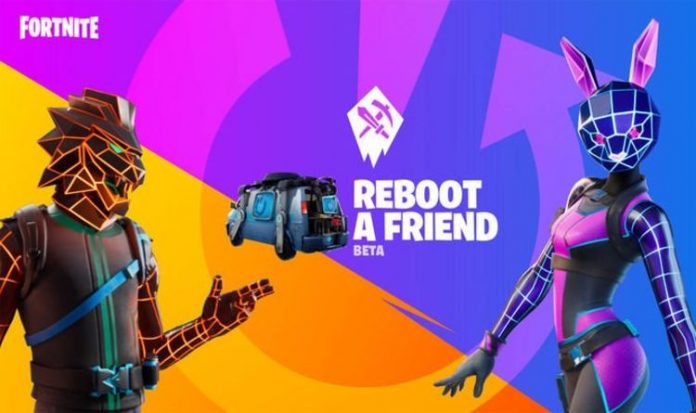 There is now less than a month before the new Fortnite Reboot A Friend program ends across all platforms.
Epic Games has setup up the new initiative to help boost the game's numbers, while providing a new way for fans to unlock special cosmetic items.
The good news is that the program is open to everyone who can find a friend to join them in a match.
The first step is to visit https://raf.fortnite.com and follow the directions to login with your Epic account.
This is then followed by inviting friends who have not played Fortnite in thirty 30 days or more, each, a "Lapsed Player" to play Fortnite.
"For clarity, if you participate in the Program as a Lapsed Player, you will not be able to later participate as a Participant and vice versa."
Here's how these steps are to be followed after signing up to the Fortnite Reboot A Friend program:
INVITE YOUR FRIENDS
Select a friend in the list and invite them to play. Remember: you can only pick one of your friends to reboot.
PLAY FORTNITE
Play matches with your friend and unlock different tiers of rewards! You can get rewards at 1, 5, 10, and 20 matches played.
UNLOCK PRIZES & GET REWARDS
You and your friend can get an awesome Emoticon, Lobby Track, Pickaxe and Wrap.
A message from Epic Games explains: "Anyone can login to the Reboot a Friend website and check if they have friends ready to be rebooted. To be eligible for rewards, you must play one match with a successfully rebooted friend.
"The Reboot a Friend Beta is available from December 14, 2020 at 3 am ET through January 4, 2021 at 3 am ET.
"Players invitees and selected friends can unlock rewards after playing games with rebooted friends. Rewards will be granted to your account within seven days. Both players receive the same awesome rewards after playing games together.
"To ensure a better experience for all players in the Reboot a Friend Beta, participation is limited to players who meet certain requirements: only friends who haven't played Fortnite for 30 days or more can be rebooted.
"We encourage you to play Fortnite with all of your friends, but for the purpose of this test, we're limiting the program to one "rebooted" friend. If this changes we'll let you know."
The current Fortnite rewards tied to the Reboot A Friend system includes the following:
1 Match – Reboot Emoticon.
5 Matches – Key Change Lobby Track.
10 Matches – Twin Talons Pickaxe.
20 Matches – Holofoil Wrap.
It should be noted that only friends who haven't played Fortnite for 30 days or more are eligible candidates for rebooting.
This will limit the field of eligible gamers, and it should be noted that this is a beta, and explains why Fortnite fans are being to limited just one rebooted friends.
The rewards will be issued to all winners within seven days if everyone is successful in joining the beta.