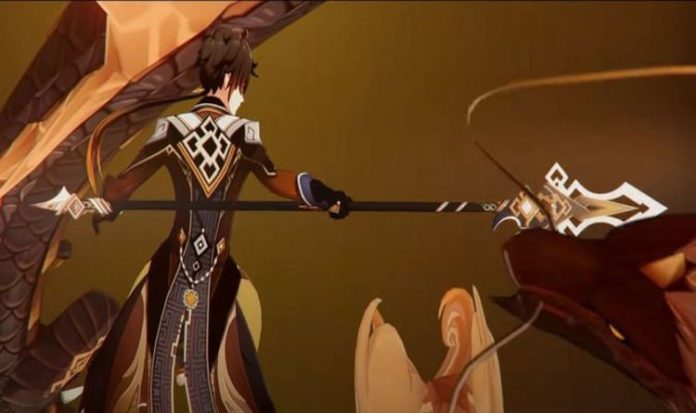 Genshin Impact is getting some exciting new content this week with the release of update 1.3, and some older characters, like Zhongli, are getting revamped.
Developers MiHoYo has confirmed that they will be launching new character Xiao with the game's next big patch, scheduled to drop on Wednesday, February 3.
Xiao will introduce a range of new talent while firing off burst damage while being highly manoeuvrable.
The new five-star character will perform up to six rapid strikes in Normal Attack, while his Charged Attack Consumes stamina to perform an upward thrust.
The most eye-catching new talent is the Bane of All Evil elemental burst, which Improves a number of stats, including Xiao's jumping ability and DMG rates.
This talent also converts DMG to Anemo, and it sounds like the aerial attacker will be most useful during his Bane talent, even if that means pairing with a healer or quickly swapping him out.
But while the Xiao Banner is going to be a big draw for Genshin Impact 1.3 players, it's the not only big thing being planned.
The promised Zhogli re-work is also launching with this week's update, and it promises to buff his GEO talents considerably.
Developers MiHoYo is making changes to all GEO characters, and much of this comes down to how under-powered Zhongli felt at launch.
The feedback from fans has led the development team to focus on Zhongli's strength in practical combat, the finer points of his ability usage, and the overall Geo construct system.
MiHoYo is hoping to enhance Zhongli's talents, optimise the controls and mechanics of his abilities and improving the mechanics of his Geo resonance mechanic.
This is all packaged in this week's Genshin Impact 1.3 update, and the early patch notes confirm how things will play differently with Zhongli after February 3.
ZHONGLI ADJUSTMENTS:
Adjustments to holding Zhongli's Elemental Skill "Dominus Lapidis":
Causes nearby Geo energy to explode, causing the following effects:
If their maximum number hasn't been reached, creates a Stone Stele.
Creates a shield of jade. The shield's DMG Absorption scales based on Zhongli's Max HP. Possesses 150% DMG Absorption against all Elemental and Physical DMG.
Characters protected by the Jade Shield will decrease the Elemental RES and Physical RES of opponents in a small AoE by 20%. This effect cannot be stacked.
Deals AoE Geo DMG.
If there are nearby targets with the Geo element, it will drain a large amount of Geo element from a maximum of 2 such targets. This effect does not cause DMG.
Adjustments to Zhongli's second Ascension Talent "Dominance of Earth":
Zhongli deals bonus DMG based on his Max HP
Normal Attack, Charged Attack, and Plunging Attack DMG is increased by 1.39% of Max HP.
Dominus Lapidis' Stone Stele, resonance, and hold DMG is increased by 1.9% of Max HP.
Planet Befall's DMG is increased by 33% of Max HP.
Optimizes Zhongli's animation under "Weapons" on the Character Screen.
Geo Shields are adjusted from having "250% Geo DMG Absorption" to having "150% Physical DMG and Elemental DMG Absorption."
It's hard to tell if all of these changes will be enough to please Genshin Impact gamers, who only need to wait a few more days before they can try them out for themselves.