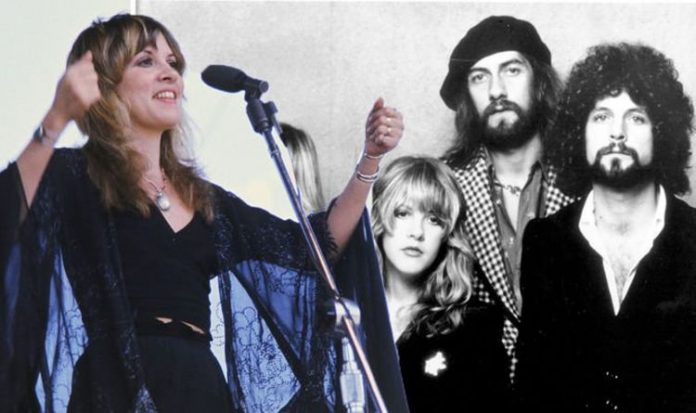 Fleetwood Mac's Rumours album was the beginning of a new era for the group. Before the arrival of Lindsey Buckingham and Stevie Nicks, the band had a very different sound. But Rumours truly defined the era in which it was released – but the story behind its creation was far from a fairytale.
Fleetwood Mac began recording Rumours in 1976, after coming off a successful tour where their new members, Stevie and Lindsey, were introduced to the public.
In 1972, some years before, Lindsey and Stevie had become a couple, and were making music together as a duo before joining the band at Mick Fleetwood's invitation.
However, their relationship was not to last long, as they broke up during the album's creation, though Stevie was adamant this would not end Fleetwood Mac.
Speaking about their break-up after Rumours, Stevie told Oprah Masterclass in 2013: "We were just finishing up the 12 songs in Sausalito [California] for Rumours and I said, 'We're done, I think that this is over, and we both know now, no matter what, we're going to keep Fleetwood Mac together.
READ MORE:  Liberace death: How did Liberace die? What was he most famous for?
"'Our breaking up is not going to break up this band and I'm not going to quit, and neither are you, but we're done.'
"But it's really hard if you break up with someone, or somebody breaks up with you, and you're in this band and guess who you have to see the next day in the hotel in the breakfast room? That person.
"It's really hard. And guess who you have to go on stage with tomorrow night? The person that either broke up with you or you broke up with and you have to go up on stage and just be fantastic."
Theirs was not the only relationship in trouble, however, as Christine and John McVie were over, and at the point of divorce when they began recording.
They had been married for almost eight years when they started recording, and according to some reports, stayed silent and avoided contact with one another except for the work.
However, Christine began an affair with the band's lighting director in 1976, which was the inspiration for the band's tune You Make Loving Fun, which appeared on the album.
When she was asked about the making of the album by Rolling Stone, she simply said: "Drama. Dra-ma."
She also spoke of how they were determined to continue, despite the difficulties they were experiencing.
DON'T MISS
She added: "Everybody was pretty weirded out. Somehow Mick was there, the figurehead: 'We must carry on … let's be mature about this, sort it out.' Somehow we waded through it."
The final relationship breakdown came for Mick, who discovered his wife's affair before recording began, though thankfully she was not a member of the group.
In 1977, however, he began an affair with Stevie, which would have caused further tensions in the already fractured group.
To cope, Stevie recalled to MOJO in 2012 how they would turn to drugs and alcohol to help them through, saying: "You felt so bad about what was happening that you did a line to cheer yourself up."
The pain of its creation, however, may be considered worth it when the album went to Number One in many countries, and is now considered a classic album of the 1970s.
It was the band's breakthrough and made them all household names, and they continued together as a group for some years before breaking up and reuniting over the decades.
At different stages, the band line-up has slightly altered, with Christine only appearing as a guest on some of their tours.
However, the current line-up only includes three of the Rumour-era group: Stevie, Mick and John.