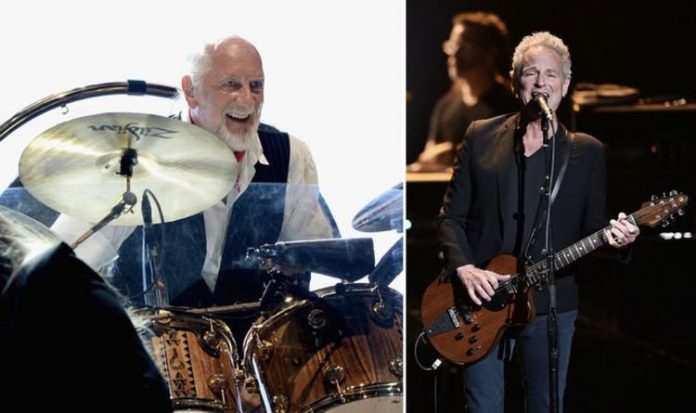 It's been three years since Lindsey Buckingham was fired from Fleetwood Mac. In the time since Stevie Nicks has doubted that she'd ever perform with him again. But even apart from Lindsey, Christine McVie recently said how she doesn't think Stevie or "frail" John McVie would be up for a reunion tour, but later clarified that Fleetwood Mac was in no way "done".
Speaking with Rolling Stone, Christine added: "As for future touring…Who knows. We continue to hope for the best."
Well, now Mick Fleetwood has spoken with the outlet and admitted that a Fleetwood Mac farewell tour with Lindsey could still happen in the future.
On the idea of such a reunion, the 73-year-old said: "I'm very aware that we've never played that card.
"I think the vision for me, and I think it would be hugely appropriate, is that we actually say 'this is goodbye' and go out and actually do that. That has always been my vision and I'm flatly confident that we can do that. We owe it to the fans."
READ MORE: Fleetwood Mac drummer can't remember two cocaine-fuelled years
An un-produced Fleetwood Mac biopic script made it on to the Hollywood Black List in 2019.
Titled Rumours after the band's most celebrated album, the screenplay was written by Tyler Austin and Patrick Eme.
A description reads: "In 1970s LA, Stevie Nicks and Lindsey Buckingham, two struggling musicians and lovers, join a band called Fleetwood Mac and are thrown into a whirlwind of worldwide fame, infamous drug addiction, and one of the best-selling albums of all time—which also happens to be about the disintegration of their relationship."
The same year, Mick shared his enthusiasm for Fleetwood Mac's story being made into a movie.
Speaking with TV1's Sunday, Mick said: "It would make a great movie.
"It was one big party. The truth is, it turned out to be a nightmare. But it was part of our lives."
If you wrote that down in a script you'd say, 'Well I don't think we can put that scene in there; they'd never believe it!' That's where the movie comes in."
Well Mick there is a script now, so surely the time is right for a Fleetwood Mac movie biopic?
READ THE FULL ROLLING STONE REPORT HERE