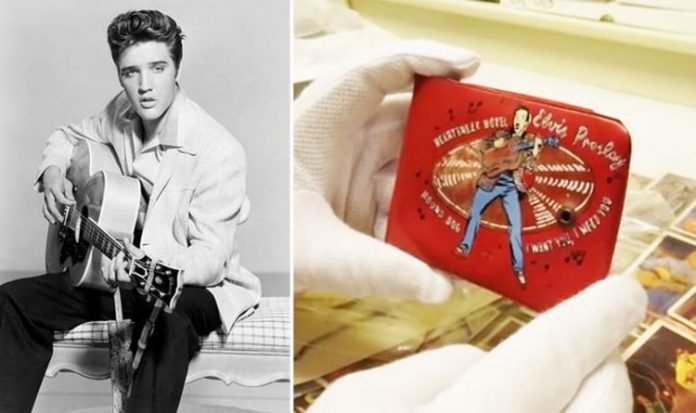 Back in 1956, Elvis Presley became an international sensation, which his business-savvy manager Colonel Tom Parker took full advantage of with a major marketing plan. According to Graceland, Elvis was one of the first artists to have his name, image, and likeness on everything from bubblegum cards to shoes. Now personal pieces of The King's 1956 memorabilia have been shown off in a new video from inside the top-secret Graceland archives.
Graceland archivist Angie Marchese started by showing fans an original set of Elvis bubble gum cards.
They included everything from The King having a vacation to studying a script, to an on-set photo from one of his Hollywood movies.
Angie revealed that in just six months during 1956, Elvis memorabilia made over $20 million in sales.
Adjusted for inflation that's over $190 million in today's dollars.
READ MORE: Elvis Presley Graceland virtual tours with off-limits areas announced
Originally Rufus Sewell and Maggie Gyllenhaal were set to play Vernon and Gladys Presley.
However, when Hanks' coronavirus diagnosis and the lockdown closed down production, both stars had to withdraw from the movie due to being committed to other projects.
Instead, they'll now be played by Moulin Rouge's Duke star Richard Roxburgh and theatre actress Helen Thomson.
The Elvis movie is shooting in Queensland, Australia and Baz has shared a couple of set photos of himself wearing a TCB (Taking Care of Business) facemask.
According to the official synopsis, Elvis is "seen through the prism of [Presley's] complicated relationship with his enigmatic manager, Colonel Tom Parker.
"The film delves into the complex dynamic between Presley and Parker spanning over 20 years, from Presley's rise to fame to his unprecedented stardom, against the backdrop of the evolving cultural landscape and loss of innocence in America.
"Central to that journey is one of the most significant and influential people in Elvis's life, Priscilla Presley."
Elvis is released in cinemas and on HBO Max on November 5, 2021.