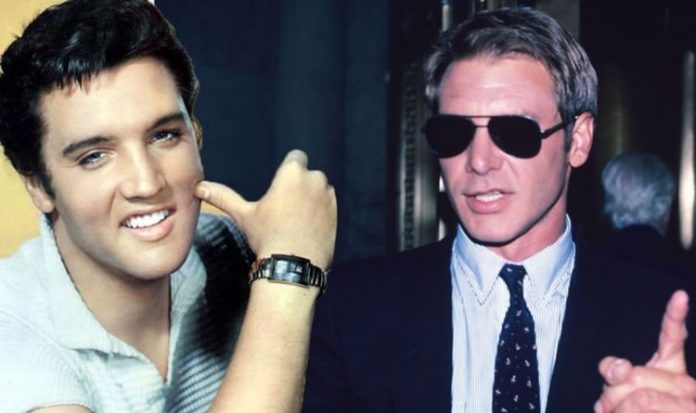 During the 1950s and 1960s Elvis was a huge moneymaker for music and film studios Harrison Ford has revealed that, years before he was famous, he was given a total makeover in the style of the King. Unfortunately it didn't go well for the aspiring star, and he was quickly dropped from his Columbia Pictures contract.
But it didn't go perfectly for Ford, as he was later dropped from his contract.
He said: "I did a year and a half and got kicked out for being too difficult.
"I was very unhappy with the process they were engaged with, which was to re-create stars the way it had been done in the Fifties.
"They sent me to get my hair pompadoured like Elvis Presley, photo in hand, all that s**t for $150 a week."
READ MORE: Elvis Presley movie director Baz Luhrmann 'consumed' with biopic
Despite the early disaster, Ford's acting career overlapped with that of the Kings a couple of times over the years.
In The Crystal Skull, Indiana Jones was brought onto screen whilst Hound Dog was playing in the background.
The most recent time was featured in Blade Runner 2049, when Rick Deckard (Ford) fought Agent K (Ryan Gosling) in the remains of Las Vegas.
During the scene, a hologram of Elvis played intermittently throughout the fight scene.
The scene sees Elvis singing Can't Help Falling In Love, which is a direct reference to Deckard's storyline.
It is suggested later in the film by Niander Wallace that Deckard could be a replicant, and was supposed to fall in love with his beau, Rachael – as noted in the song.
Can't Help Falling In Love was first released in 1961, on Elvis' Blue Hawaii album.
It spent four weeks at number one, and was certified platinum by the RIAA for over one million copies sold.
Can't Help Falling In Love was later covered by Bob Dylan, and Engelbert Humperdinck.
READ THE ORIGINAL REPORT