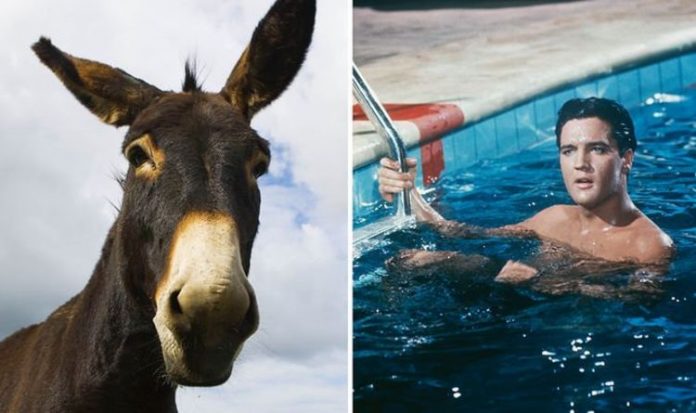 Back in 1957, Elvis Presley bought Graceland at the age of just 22-years-old and moved his family in. While he was shooting a movie in LA, his uncle Travis Smith helped oversee the move. The brother of Elvis' mother Gladys Presley went on to become Head of Security at the property.
Elvis fans will know The King kept all kinds of animals at Graceland.
The King had dogs, horses, fish, cats, birds and peacocks – you name it.
But the star also had some donkeys and during the move the stalls and fences in the back of the property hadn't been built yet.
However, the Graceland pool had been dug, so The King's donkeys were lowered into the empty space for the time being.
READ MORE: Elvis Presley: Guess the ONLY movie he doesn't sing on-screen in?
Elvis' grandson, who was recently buried at Graceland, has his final resting place nearest the pool.
Benjamin Keough, The King's only grandson, tragically died at the age of just 27-years-old this summer.
Graceland wrote on its official Facebook page: "Benjamin Storm Presley Keough was laid to rest in the Meditation Garden at Graceland with his family including his grandfather, Elvis Presley, great-grandmother, Gladys Presley, great-grandfather, Vernon Presley and great-great-grandmother, Minnie Mae Presley."
The first photos of Benjamin Koeugh's grave have been shared by a fan account of his sister Riley Keough.
DON'T MISS
Elvis Presley's cousin shares Kurt Russell movie set memories [ELVIS MOVIES]
Elvis: Graceland upstairs MISCHIEF 'It was like living with Peter Pan' [GRACELAND UPSTAIRS]
Elvis Presley cousin 'feels his presence every day' as shares DREAM [INTERVIEW]
One of the photographs, allegedly taken on October 1, shows Benjamin's chest tomb on the other side of the fountain from Elvis' grave.
An inscription on the end, surrounded by flowers, has his full name: "Benjamin Storm Presley Keough.
His mother, Elvis' only child, Lisa Marie Presley broke her silence on what would have been her son's birthday last week.
The 52-year-old wrote on social media: "My beautiful beautiful angel, I worshipped the ground you walked on, on this earth and now in Heaven. My heart and soul went with you."
Lisa Marie continued: "The depth of the pain is suffocating and bottomless without you every moment of every day. I will never be the same.
"Please wait for me my love, and hold my hand while I stay to continue to protect and raise your little sisters and to be here for Riley. I know you would want that.
"Happy Birthday my sweet sweet Boy. You were much too good for this world."
His father is singer-songwriter Danny Keough, who was Lisa Marie's first husband from 1988 to 1994.