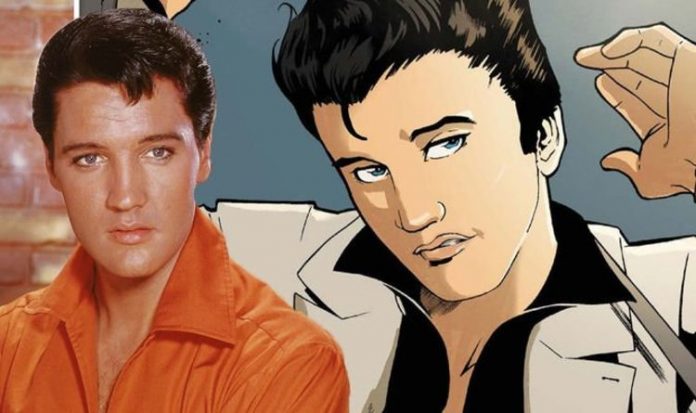 Elvis Presley fans will no doubt have seen the King of Rock n Roll in every form of media possible. He is best known for singing the blues, and showing off his taste for rock n roll, but he also made incredible waves in the film industry. The King starred in 32 films from 1956 all the way until 1972. Many of them were blockbuster smash hits, including Jailhouse Rock, and Viva Las Vegas.
However, next year, 44 years after the King's death, he will be appearing in a brand new type of media – the graphic novel.
Z2 Comics today announced the first official Elvis Presley graphic novel, in association with the Elvis Presley Estate – simply titled Elvis Presley: The Graphic Novel.
The company posted the first screenshots of the King's book, showing a cleanly-drawn version of the superstar.
According to the synopsis of the novel, the story will bring readers from his early years all the way to his death.
READ MORE: Elvis' Christmas Album: When was Elvis Presley's Christmas album released?
The synopsis reads: "Legends have to start somewhere… Witness the King of Rock 'n' Roll's humble beginnings in Memphis as a young artist struggling to define his voice and break into the music industry.
"From the history-making Sun Studio to television sets across the nation, the trials and tribulations of Elvis Presley are explored in graphic detail by authors Chris Miskiewicz (Grateful Dead: Origins) and Marvel Comics artist Michael Shelfer."
As if the prospect of an Elvis graphic novel was exciting enough, it is due to be available in a number of versions.
While there are the softcover and hardback versions of the books, the Deluxe Edition and the Super Deluxe Editions are also going to be made available – in limited quantities, and styled in "Blue Suede".
Although the legendary singer's new graphic novel won't be out in time for Christmas, it has recently been revealed the Presley family celebrated the festivities passionately back when the King was alive.
Elvis' second cousin, Danny Smith, explained how casual and joyous the annual "family gatherings" were.
He said: "We had so many good times! That was some of the funnest times in our lives.
"Food was out in a lot of places around the house. It had everything."
Danny went on to divulge what was on offer, including: "Ham, turkey, finger sandwiches, chips and dip, punch, Pepsis, desserts. Anything you want!"
Even more exciting was that Elvis would create some suspense before he arrived at the party.
Danny added: "Elvis would be a while before he would come downstairs.
"Of course that was one of the biggest thrills for everybody, especially for us, waiting for his arrival. It was like…unexplainable. It was just magical."
The Official Elvis Presley Graphic Novel is due to release in August, 2021.