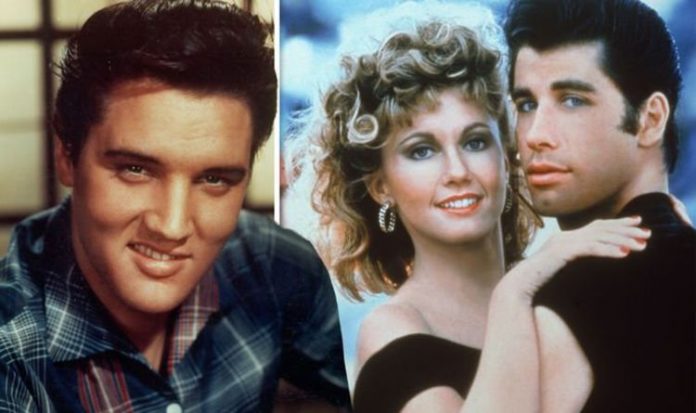 Grease took cinemas by storm when it arrived in 1978, and depicted a bygone era of doo-wop bands, greasers, and street races. No other artist on the planet summed up this time period in music as well as Elvis Presley, who was referenced in the movie through his unique hairstyle and clothing frequently – but he was only mentioned by name once. The star's name popped up during Look at Me, I'm Sandra Dee, where Rizzo announces: "Elvis, Elvis, let me be. Keep that pelvis far from me."
In a bizarre coincidence, it has been revealed that the day this scene and song was recorded, was the same day that Elvis died.
The King of Rock n Roll died on August 16, 1977 at his home, Graceland, in Memphis, Tennessee.
Director of the movie, Randall Kleiser, commented on the uncanny scenario, saying: "It was very eerie."
Discussing the day Elvis died, Randall added: "It was all over the news, so everyone knew."
READ MORE: Elvis Presley affair: Ann-Margret and the 'demons' shared with King
In an even more surprising turn of events, Elvis' name was actually put into the song to replace a reference to Sal Mineo.
Mineo was an American actor who was at his most famous throughout the 1950s after appearing in Rebel Without a Cause alongside James Dean.
However, just a year before the film began shooting, in 1976, Mineo was murdered, prompting the Grease writers to change the reference to Elvis instead.
Grease was an enormous success when it was released in 1978.
The movie was the highest-grossing film of all time for a while, as it overtook the likes of Jaws, which was released in 1975, and Star Wars – A New Hope, which came just a year before in 1977.
Grease recently celebrated its 40th anniversary in 2018 Oscars, which saw the cast, including John Travolta and Olivia Newton John, reuniting.
Grease is available to watch on Amazon Prime Video now.
READ THE NEW YORK POST REPORT