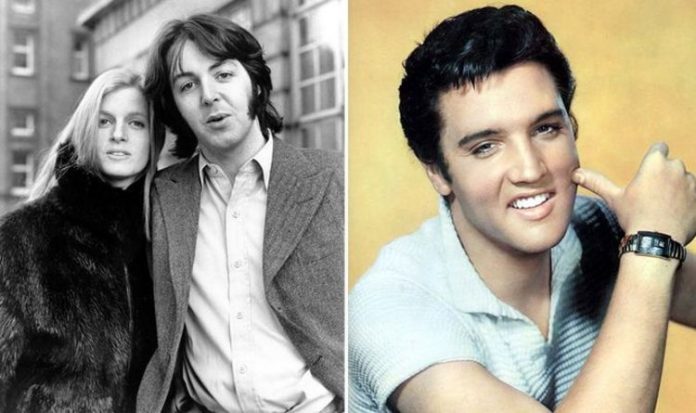 During Elvis Presley's early career, he performed in a trio that featured Bill Black on the double bass. The iconic instrument was used on the recording of The King's hit single Heartbreak Hotel, but following Black's death in 1965 it ended up sitting in a barn. The bass has now come to be owned by Beatles legend Sir Paul McCartney, who plays it on his new album McCartney III.
How Sir Paul managed to get his hands on Bill Black's bass is down to his late wife Linda McCartney, who gave it to her husband as a birthday present.
In a new interview, the 78-year-old said: "We had quite a few acquaintances in Nashville.
"One of the guys who we knew happened to know Bill Black's family.
"He was chatting to Linda and said, 'That old bass is just sitting in the barn. Nothing's going to happen with it.'"
READ MORE: Elvis Presley: TOUCHING way Paul McCartney honoured him at Graceland
Sir Paul added: "I think Linda thought, 'God, talk about a birthday present!' She organised it all and gave it to me. I've been playing it ever since.
"I can't play it very well because I'm an electric bass guy.
"But it's a great sound and as long as the part I'm doing is simple, I can manage it."
McCartney III follows in the footsteps of The Beatles legend's first two solo albums in McCartney and McCartney II, which celebrate their 40th and 50th anniversaries this year.
Sir Paul added: "We said, 'What's this?' The engineer started explaining it to us, 'It will synthesise strings. You can get flutes and organs and all sorts of stuff.'
"So we became fascinated with it. We used it on a few things, like the intro to Strawberry Fields.
"There's a Spanish guitar line on Buffalo Bill – that's actually the Mellotron. These days, if you go a bit crazy on it and don't allow it to do its full sample, you end up with a wacky piece of music."
On McCartney III's inception, Paul said how he was living lockdown life on his farm with his family when he would pop into his studio every day.
The 78-year-old said: "I had to do a little bit of work on some film music and that turned into the opening track and then when it was done I thought what will I do next? I had some stuff I'd worked on over the years but sometimes time would run out and it would be left half-finished so I started thinking about what I had.
"Each day I'd start recording with the instrument I wrote the song on and then gradually layer it all up, it was a lot of fun.
"It was about making music for yourself rather than making music that has to do a job.  So, I just did stuff I fancied doing. I had no idea this would end up as an album."
McCartney III will be released December 11, 2020 on Capitol Records across digital platforms, on CD, and on LP manufactured by Third Man Pressing and can be pre-ordered here.