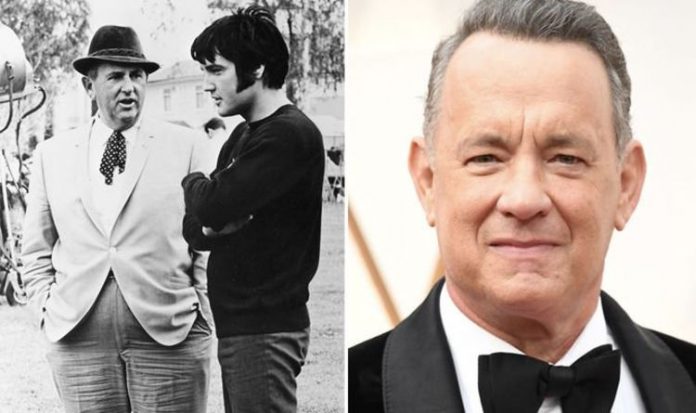 He was the first major celebrity to contract COVID-19 and as a result, the Elvis Presley movie biopic's production had to shut down just before the shoot was set to commence. Tom Hanks soon recovered and in more recent months has been filming scenes as The King's manager Colonel Tom Parker in Queensland, Australia. Now the 64-year-old has unveiled what he calls a "horrible" first look at his take on the Elvis figure, by showing off his new haircut.
Hanks appears on tonight's episode of The Graham Norton Show via video call, promoting his new Netflix movie News of the World.
At one point the host asked what he's working on at the moment, and the star said he's been shooting Baz Luhrmann's Elvis movie with King co-star Austin Butler.
Wearing a baseball hat, the Hollywood legend then said: "Let me show you the horrible haircut I have to have in order to play Colonel Tom Parker."
Hanks then swiftly took off the cap and revealed his bald head with hair remaining on the sides like Elvis' manager.
READ MORE: Elvis Presley movie: Baz Luhrmann teases Las Vegas scene, praises star
Earlier this year, Elvis movie director Baz teased the Las Vegas residency scene that Hanks and Butler had been rehearsing before production was shut down.
Speaking with Deadline, the 58-year-old said: "So I'm getting ready to begin shooting on a Monday.
"I was four days out from shooting…I had built the Vegas showroom, the International which became the Hilton, and you know that famous scene where Elvis is playing that showroom?
"Tom guides in Austin [Butler] as Elvis, and it's a scene where basically hundreds of girls are kissing Elvis, in a '70s show."
Baz added: "We were rehearsing camera positioning, everything, and I'd done all the tests – Austin, Tom, and the whole cast was on fire. We were that close."
Praising Elvis star Butler, the director said: "During the testing process, his commitment, his transformative abilities from the young Elvis to beyond, he had been playing so very well.
"He was terrific. There was such great energy and excitement in the cast and company, about the show we were about to shoot."
Before coronavirus closed down the set, Elvis' parents were set to be played by Rufus Sewell and Maggie Gyllenhaal.
However, due to conflicting schedule commitments, Baz had to recast Vernon and Gladys Presley with Richard Roxburgh and Helen Thomson.
Roxburgh is best known for playing The Duke in the director's Moulin Rouge!, while Thomson is an award-winning theatre actress.
According to the official synopsis, Elvis is "seen through the prism of [Presley's] complicated relationship with his enigmatic manager, Colonel Tom Parker. The film delves into the complex dynamic between Presley and Parker spanning over 20 years, from Presley's rise to fame to his unprecedented stardom, against the backdrop of the evolving cultural landscape and loss of innocence in America. Central to that journey is one of the most significant and influential people in Elvis's life, Priscilla Presley."
Elvis is released in cinemas on November 5, 2021 and The Graham Norton Show airs at 10:25pm on BBC One tonight.