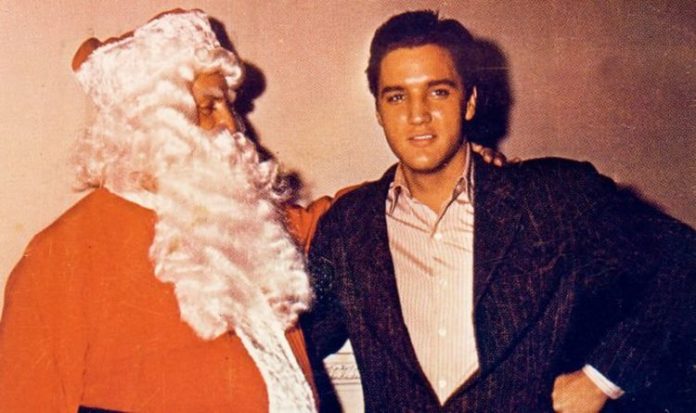 The King celebrated Christmas in truly regal style from the very first year at Graceland. Even now, 63 years after he moved into the Memphis mansion, all the drapes in the house are changed from blue to a rich red. The house is decorated just as it was then, with so many lights lining the driveway that the star's father Vernon joked that incoming pilots might mistake it for the landing strip of the nearby airport.
Elvis loved Christmas so much, the decorations would go up early and stay in place two days later than the traditional January 6th Twelfthnight, so that he could enjoy them on his birthday on January 8.
His family and friends would be treated to extraordinarily lavish gifts, with the star handing out high luxury items like jewellery, fur coats and even cars. He also always gave generous cash 'bonuses' to his inner circle every year.
READ MORE: Elvis Graceland 'mayhem' rooms: Lisa Marie describes what went on in private basement
Scroll down to see footage from beautiful home videos shot at Graceland with the star's manager Colonel Parker dressed as Santa.
The whole house was decorated every year, starting with a colourful Nativity scene in the front yard and Christmas wreaths at the stables.
Graceland's traditional Christmas decorations also include two trees – one in the living room and one in the dining room, poinsettias on the staircase and throughout the house, and decorations in the Pool Room and Jungle Room.
Even the famous monkey in the pool room is given a makeover, with a Santa hat and a red bow.
Elvis' cousin Billy Smith grew up around Graceland and remembers Xmas there with wonder: "Golly. it was almost like living in a fantasy world."
His wife Jo, however, also described how it might have looked spectacular, but it was also warm and welcoming: "Inside Graceland was like a wonderland, but it wasn't a formal thing. It was never formal, it was just casual…everybody sitting around talking. He wanted to make sure everybody had a good time, everybody was comfortable, all the guys [and] their wives."
This year, there is also an official new video for Elvis' classic seasonal song, Blue Christmas.