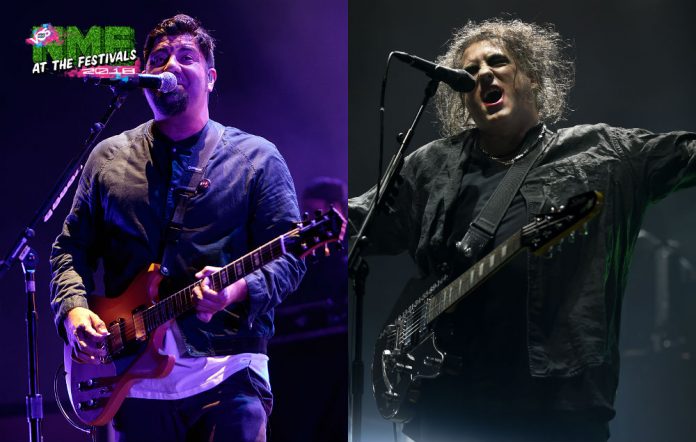 [ad_1]

Another Cure classic covered
Deftones took to the stage at Robert Smith's Meltdown festival in London last night, where they dusted off a cover of The Cure and also a few rarities in honour of their host. Check out footage and the setlist below
The band were hand-picked by Smith for the festival alongside the likes of Nine Inch Nails, Manic Street Preachers, Mogwai, The Libertines and Death Cab For Cutie. During their show of Deftones' classics and fan favourites at the Southbank Centre, they also aired 'Battle-axe' from their self-titled album for the first time in over a decade, as well as 'Birthmark' from their debut for the first time since 2015.
Not only that, but the metal veterans also outed their celebrated cover of The Cure's 'If Only Tonight We Could Sleep' – which they performed when Smith and the band were honoured with the MTV Icon Award in 2004 and was later released on the album 'Covers'.
This follows Manic Street Preachers covering The Cure's 'In Between Days', Placebo performing 'Let's Go To Bed' and The Libertines with 'Boys Don't Cry' all at Meltdown this week.
Deftones' setlist was:
Feiticeira
Digital Bath
Be Quiet and Drive (Far Away)
My Own Summer (Shove It)
Rosemary
Swerve City
You've Seen the Butcher
Sextape
Diamond Eyes
Phantom Bride
Battle-Axe (first time since 2007)
Knife Prty
Change (In the House of Flies)
If Only Tonight We Could Sleep (The Cure cover – first time since 2007)
Rocket Skates
Around the Fur
Encore:
Minerva
Birthmark (first time since 2015)
Meltdown concludes this weekend with performances from Mogwai, Nine Inch Nails, Suzanne Vega, My Bloody Valentine, and an exclusive show from Robert Smith himself with special guests for 'Cureation' to close the event.
[ad_2]