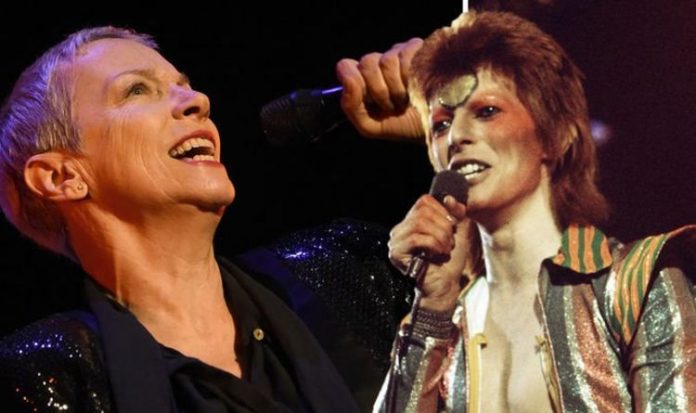 David Bowie took to the stage among some absolute legends throughout his career, collaborating with artists such as Queen, Cher, John Lennon and Luther Vandross in his time. At one point, in 1992, he took to the stage with Annie Lennox in a very important performance, in honour of his friend Freddie Mercury. This performance was seen by tens of thousands of people – but what was the performance and when did it happen?
David Bowie collaborated with Queen in 1981 on the song Under Pressure.
This is one of the most famous songs from the band, and included some heated rehearsals as well as being one of their most famous.
According to Brian May, things got pretty tricky between the band and David, due to the latter's exacting nature about the music he put out.
Despite these difficult sessions, David held the song close and performed it at The Freddie Mercury Tribute Concert, which took place on April 20, 1992, at Wembley Stadium.
READ MORE: Lisa Marie Presley Nicolas Cage: How long were they married?
There were 72,000 people in the audience, and the tickets sold out in three hours.
In this performance, David brought Annie Lennox, whose voice cannot be paralleled, for a totally new rendition of the song, with Annie filling in Freddie's vocals.
In an interview with Mojo, Brain said of the initial sessions: "Freddie and David locked horns, without a doubt. But that's when the sparks fly and that's why it turned out so great.
"It wasn't easy because we were all precocious boys and David was very… forceful, yes.
"[They fought] in subtle ways, like who would arrive last at the studio. So it was sort of wonderful and terrible."
It was not just Freddie who David squabbled with during those sessions, however, as Brian told the Daily Mirror, the Space Oddity singer also had some bust-ups with bassist John Deacon.
He said: "'What was that riff, you had, Deacy?' says David B. 'It was like this,' says John Deacon.
"But Bowie protested, 'No it wasn't, it was like this.'
DON'T MISS
According to Mark Blake's Is This the Real Life?: The Untold Story of Freddie Mercury and Queen, the song was written during a drug and drink-infused recording session in Switzerland.
Drummer Roger Taylor said: "David came in one night and we were playing other people's songs for fun, just jamming… in the end, David said, 'This is stupid, why don't we just write one?'"
David and Freddie, despite the difficult recordings sessions, were friends until his death, with Freddie telling a talk show: "Oh, we're speaking to each other, we're just in different parts of the world.
"He's alright, he's okay. We've been friends a long time back."