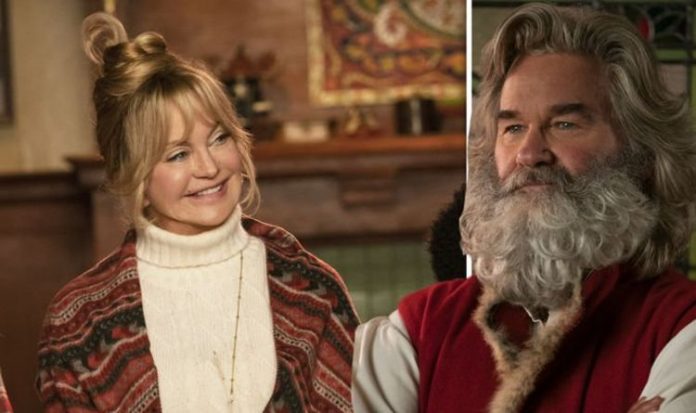 Christmas Chronicles was a runaway hit for Netflix last year, as Kurt Russell jumped into the red and white Santa suit to save the holidays. Fans will recall the final stinger of the movie which featured a Mrs. Claus cameo, who was played by none other than Russell's real-life wife, Goldie Hawn. This year the streaming giant has released the next chapter of the series, Christmas Chronicles 2, with Hawn in the main cast this time around.
Christmas 2020 sees Santa Claus and Mrs. Claus tasked with saving the Christmas Star – which is at risk of being stolen by Belsnickel (Julian Dennison).
In the film, the star is a legendary object that was created thousands of years ago when Santa was still new to his job.
Although the film itself has a lot of action and story inside it, the star of the show, Russell, went the next step to flesh out his legendary character.
In a recent interview, director of the film, Chris Columbus, explained how Russell wrote pages of backstory for Santa Claus for Christmas Chronicles 2.
READ MORE: Avengers: Daredevil fans call on Marvel to save character
Columbus praised the actor, saying: "What's incredible about it is [Russell] truly treats it like method acting.
"I don't know if I told you, but he wrote 200 pages of the backstory of Santa Claus. About the mythology, about how he met Mrs. Claus."
While this expansive backstory was no doubt beneficial to the story, it will not be seen by fans in the film.
Columbus added: "We couldn't use [all of it]. And that is his level of commitment."
The duo also appeared in Swing Shift together in 1984.
Russell and Hawn recently gave a rare joint interview on the Ellen Degeneres show via Zoom, in which they gushed about working so closely together.
On filming together, Hawn said: "We'd go out and have dinner and we were just together and it was intimate – it was just the two of us.
"I just thought it was the most fun time ever. It felt like our honeymoon."
Christmas Chronicles 2 isn't the only festive film out on Netflix this year. 
The flick is joined by original, Greatest Showman-esque musical Jingle Jangle: A Christmas Story, which stars Forest Whittaker. 
Netflix also recently released A Princess Switch: Switched Again. 
Christmas Chronicles Part 2 is on Netflix now.
READ THE ORIGINAL REPORT HERE