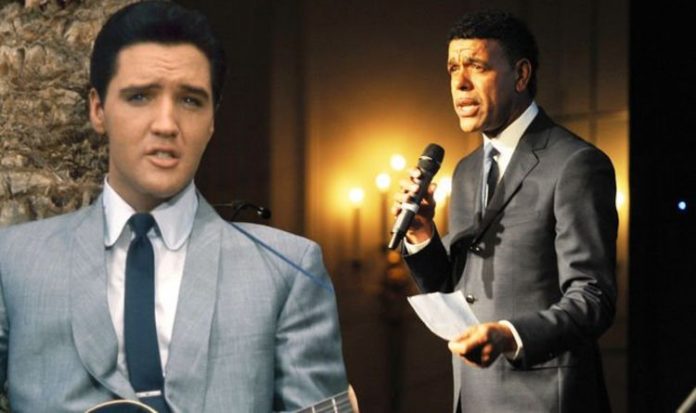 Chris Kamara is always doing the rounds on TV as one of the most entertaining pundits around, but last year he surprised even his fans when he announced he was releasing a Christmas album. The 62-year-old released the festive album in November of 2019, and saw a huge response.
Despite the record coming out to fulfil one of Kamara's self-proclaimed "bucket list" events, he broke the top ten album chart with it.
The album, Here's to Christmas, reached number eight in the UK album charts, as well as number eight in the Scottish album charts.
What's more, the record received some very favourable reviews, with the Irish Times calling it a "smooth, big band swing album that is pure class".
This year, Kamara is looking to go bigger and better than ever, with his sophomore album titled …And A Happy New Year.
READ MORE: Elvis Presley's Graceland Christmas and his 'unforgettable generosity'
Kamara recently spoke out about the attraction of putting out a second album.
He said: "I always thought I could sing. Getting to sing in front of a 22-piece big band is every artists' dream.
"Because of the success of last year's album, the record company said 'let's go for it again'."
The singer's new ten-track album includes the likes of Bing Crosby epic, White Christmas, Elvis Presley hit Blue Christmas, and We Wish You a Merry Christmas.
WATCH KAMARA'S VERSION OF I WISH IT COULD BE CHRISTMAS EVERYDAY BELOW.
Kamara has already released one song from the album, a cover of Wizzard's I Wish It Could Be Christmas Everyday, and he was even introduced by Wizzard frontman Roy Wood.
Going on to talk about the response to last year's album, Kamara said: "People initially thought it was a novelty record when they listened to it. It's become a serious situation.
"Roy Wood introducing me is another 'pinch me, is it happening?' moment.
"I have enjoyed doing it. We want to make this year's album bigger and better than last year's."
"The last time I saw the band was in March, just before lockdown.
"We have been working remotely over Zoom. It is just the stuff that dreams are made of."
Kamara has been lucky enough to continue working over Zoom, as he was recently caught in a blunder on ITV show Lorraine.
The pundit was due to be a guest on the show, but failed to get the technology working.
Lorraine found herself staring at a black screen which read "mystery guest", leaving her to laugh at the situation.
She told viewers: "Obviously he's releasing his second Christmas album but you know what it's like with these Zoom call things."
Eventually she got hold of the star, before he lost visual and audio once again, prompting Lorraine to remark: "That is so funny."
Chris Kamara's album, …And A Happy New Year, is out now.
READ THE ORIGINAL REPORT HERE