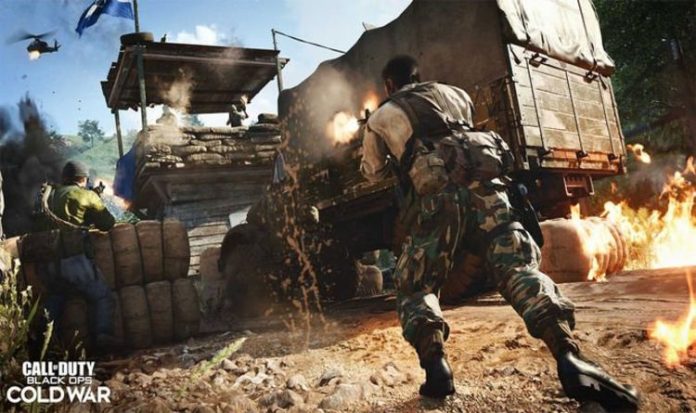 Activision recently confirmed its plans to add new Season 1 content to its Call of Duty games over the coming weeks, with Zombies the main focus.
A new Zombies map is being released on February 4 called Firebase Z, with more expected to be shared soon.
A message from Treyarch adds: "With the destruction of the WWII-era "Projekt Endstation" site after investigating the otherworldly Dark Aether anomaly in Poland, Requiem now sets its focus on the latest Dark Aether outbreak site: Outpost 25, known by the code name "Firebase Z."
"We've got plenty more in store that we can't wait to share in the coming weeks, so stay tuned for details."
And with such a large expansion being planned in Zombies, it's hard to say if there will be anything big being planned for this week.
Activision will be ending its current Double XP event later today, meaning there will be an opening for another patch.
This is a great opportunity to quickly earn attachments for the Streetsweeper or camos for the Wakizashi as soon as they are unlocked or keep striving toward those DM Ultra and Dark Aether mastery camos in MP and Zombies.
It's more likely that a new playlist patch will be going live on Thursday, January 21, rotating old content with new.
This will mean new multiplayer maps and modes to play through on Call of Duty Black Ops: Cold War.
Changes will also be released in Warzone, with Buy-Back Solos, Resurgence Quads and Plunder Mode expected to be tweaked.
Other changes planned for January 21 include new operators being released and the end of the free Zombies access.
Here's what has been confirmed by developer Treyarch as coming to the game during Season 1:
Snipers Only Moshpit
Get ready, snipers. Later in Season One, Treyarch is bringing the new Snipers Only Moshpit mode to Black Ops Cold War, where two teams of six will throw down in Team Deathmatch and Domination with all weapons restricted except sniper rifles.
Lethal and tactical equipment, as well as Scorestreak weapons (such as the War Machine), will also be restricted for a pure snipers-only experience.
Endurance Mode
Following this season's tactical Duos variation, Black Ops Cold War's biggest game mode is about to take the 10-team experience to a whole new level.
In the upcoming Endurance variant, 10 squads of four will drop into Alpine, Ruka, and Sanatorium to collect Uranium and arm bombs throughout the match.
However, after one bomb detonates, a new one will now come online to take its place, ensuring that there will always be five bombs available instead of an initial set of five that gets reduced to a single bomb. This introduces a new layer of strategy and non-stop action to these already intense 40-player battlegrounds.
The score limit will also be doubled from 500 to 1,000 in Endurance mode, making this perfect for completing MP challenges. Jump in with your squad and experience the game's most elaborate maps in an entirely new way.
New 3v3 Face Off
This fast-paced, small-team mode is here to stay in Season One, and it's ready for your trio to claim dominance in respawn modes across four frenetic maps in Black Ops Cold War.
If you haven't experienced Face Off yet, this playlist features 3v3 Team Deathmatch, Kill Confirmed, and Domination game modes on the latest Gunfight maps: Game Show, ICBM, U-Bahn, and KGB.