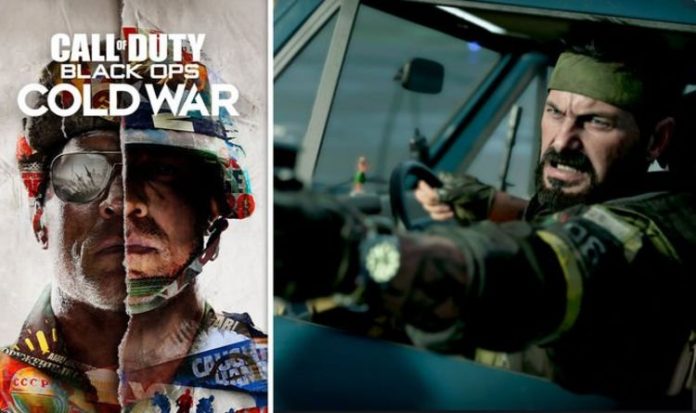 Call of Duty Black Ops Cold War is out now on PS5, Xbox Series X, PS4, Xbox One and PC.
The latest release in the Call of Duty saga features all of the usual single and multiplayer action we've come to expect, as well as a host of new activities such as Fireteam and Combined Arms.
To celebrate the launch of the new Call of Duty, Activision has sent over a guide featuring everything you need to know about the new release.
Call of Duty Black Ops Cold War Story…
A direct sequel to the original, fan-favourite Black Ops, and set in the early 1980s, Black Ops Cold War drops players into the depth of the Cold War's volatile geopolitical universe in a gripping experience where nothing is as it seems. 
In addition to the story campaign, Black Ops Cold War will bring an arsenal of Cold War weapons and equipment into Black Ops Multiplayer combat, and an all-new co-operative gameplay experience with Zombies.   
Players will assume the role of clandestine Operators that are dropped into a wide range of locales around the world. These environments will show off the tremendous variety in map design and gameplay styles, from small boots-on-the-ground skirmishes to all out, multi-team warfare.
Whether you're playing in Miami's South Beach or the alleyways of urban Moscow, player immersion is a critical component of the gameplay experience.
Call of Duty Black Ops Cold War game modes…
Single player
Black Ops Cold War drops fans into the depths of the Cold War's volatile geopolitical battle of the early 1980s.
Nothing is ever as it seems in a gripping single-player Story Campaign, where players will come face-to-face with historical figures and hard truths, as they battle around the globe through iconic locales like East Berlin, Vietnam, Turkey, Soviet-era Moscow, and more.
As elite operatives, you will follow the trail of a shadowy figure named Perseus, who is on a mission to destabilise the global balance of power and change the course of history.
Descend into the dark centre of this global conspiracy alongside iconic characters Woods, Mason and Hudson, and a new cast of operatives attempting to stop a plot decade in the making.
Multiplayer
Beyond the Campaign, Black Ops Cold War delivers the next generation of Multiplayer combat and an all-new Zombies experience, in addition to sharing content with the free-to-play, free-for-everyone blockbuster battle royale experience, Call of Duty: Warzone.
Black Ops Cold War will feature cross generation crossplay support, with cross progression for all players to play together.
Black Ops Cold War will also offer a Battle Pass system and deliver a steady stream of post-launch content, including multiplayer maps and modes, Zombies experiences, along with a robust schedule of in-game community events.
Black Ops Cold War includes shared progression features with Warzone, adding inventory items that can be used in both titles. Plus, Warzone players will still have access to Modern Warfare content they earned previously, like Operators and weapon blueprints.
Zombies
This four-person co-op mode is set to take veterans and newcomers alike on a bold and terrifying journey that expands on an iconic part of the Call of Duty franchise with perks and skill tiers, weapon rarities, custom loadouts and more.
The first experience will be Die Maschine – an abandoned Nazi research facility that holds dark secrets.
Call of Duty Black Ops Cold War PS5 and Xbox Series X upgrades…
Players can expect 120Hz support which will mean less lag and an overall smoother gameplay experience. PlayStation 5 players in particular will benefit from haptic feedback via the controllers and Sony's HRTF 3D audio will provide the most tactile combat experience yet in a Black Ops game.
Next-gen gamers will also benefit from "instant" load times that are possible because of new decompression techniques that get the game data where it needs to be as fast as possible, changing how data is stored on disk in order to speed up reading, and ultimately helping to reduce download sizes.