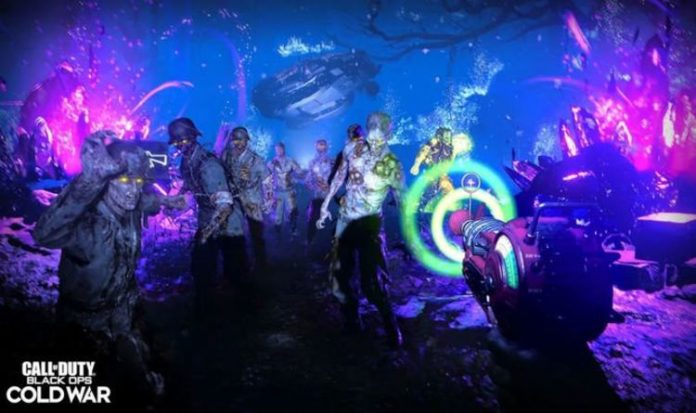 It won't be long before gamers are enjoying new zombie modes and checking out the latest roster of weapons during Call of Duty Black Ops: Cold War Season 1.
With the Cold War Season 1 release date set for Wednesday, December 16, it's now less than 24-hours before the final update is released.
This one will be for COD Warzone, helping to integrate both games into one progression system.
There will also be a shared roster of weapons, with the arsenal massively expanding across both games on December 16.
And while today's Black Ops Cold War update is now available to download – weighing in at around 5GB – it should be noted that most of the new content won't unlock until December 16.
Today's patch does bring with it a number of changes, one of the biggest being made to COD Zombies.
According to the early patch notes shared by Treyarch, today's update makes it possible to play Zombies mode in split-screen.
This has been a listed option since the game was released but has never worked before.
Today's update should make it possible to play couch co-op in Zombies mode again, with plenty of other changes listed in the past notes.
You can find a short summary below of what is included in today's update, with more detailed news expected in the coming hours:
Weapon tuning for multiple classes, including tactical rifles
Perk tuning, including reducing Flak Jacket protection
MP mode updates
Spawn improvements
Zombies fixes + updates, including 2-player splitscreen
PC stability updates
More
A message from Treyarch explains: "Watch for patch notes before Season One goes live, covering these changes and everything coming to Black Ops Cold War and Warzone on Dec. 16th.
"To clarify, this download will go live at 11PM Pacific Time tonight in Black Ops Cold War. Warzone's update is planned to go live 24 hours later at the start of Season One."
Based on what has been shared so far, Call of Duty Black Ops: Cold War Season 1 should release at 7am GMT on December 16, 2020.
And here's more on that new content coming to Black Ops Zombies this week with the launch of Season 1:
New Zombies Modes
Jingle Hells (Launch Week)
This limited-time holiday mode turns "Die Maschine" into more of a winter wasteland than a wonderland, and there's plenty of cheer to keep you in the yuletide mood. Aside from the new holiday decorations, expect a variety of festive firepower to augment your offensive capabilities including snowballs that can freeze zombies, stocking power-ups, presents you can extract from frozen foes, and special surprises waiting inside the snowmen.
Cranked (In Season)
A limited-time mode both literally and figuratively! Keep one eye on the countdown timer, and the other on your zombie-killing: spend too long without an undead takedown and you'll explode! There's no time to lose as your survival depends on frantic, terror-filled takedowns where the only respite is the Cranked power-up, granting a brief breather before the carnage continues.
According to the latest chatter from Treyarch, a second Cold War map is scheduled to launch in February or March, depending on the timing of Season 2.