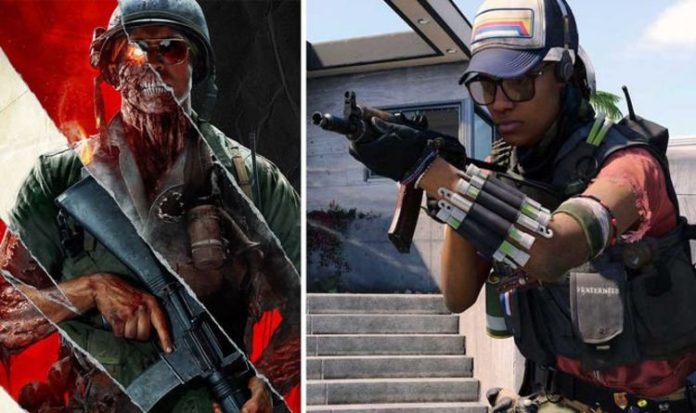 Call of Duty Black Ops Cold War and Warzone fans are counting down to the release of the next in-game operator.
Named Zeyna Ossou, the new Call of Duty multiplayer character is described as a mobility and heavy weapons specialist.
The brand new Black Ops and Warzone multiplayer operator has a January 21 release date.
Fans can purchase Zeyna as part of a Store Bundle containing her Nitro skin and three weapon blueprints.
This includes a legendary LMG called The Cleaver and a legendary SMG called The Scalpel. That's on top of the Finishing Touch melee weapon, which transforms the combat Knife into a switchblade.
"Senegal-born DGSE Mobility and Heavy Weapons specialist Zeyna Ossou has been a motorhead for as long as she can remember," reads the official description.
"Growing up around the garages of her rally driver father, she jokes that she has gasoline in her veins."
Zeyna will be joined by another Call of Duty store bundle over the weekend, as the Big Joke pack joins the game.
"Laugh all you want over Baker's "Clown" skin, but just know that the two Weapon Blueprints included here mean serious business," reads an Activision teaser.
In other Call of Duty news, Activision is getting ready to pull the plug on this week's Zombies trial.
For the past few days, PlayStation, Xbox and PC users have been able to download and play the popular Zombies mode for free.
Unfortunately, however, the Cold War Zombies free trial is coming to an end, so consider this your last chance warning. The Zombies free trial has a January 21 end date, and most likely a 6pm GMT end time for fans in the UK.
Anybody who downloads the game mode for free can check out the main Die Maschine Zombies experience. 
"An abandoned WWII-era laboratory in Poland containing a massive particle collider has opened a rift to unexplainable monstrosities and animated undead forces.
"As part of the international response team known as Requiem, you'll infiltrate the DZ and try to survive waves of zombies through multiple rounds as you either uncover the secrets of 'Die Maschine,' or exfiltrate early with your life intact (and some great rewards to boot)."
There's even a special Cranked version of Die Maschine, which adds a countdown timer after killing the first zombie.
Fail to kill another zombie before the timer hits zero and your character will instantly explode – as if you needed more pressure.
Fortunately, despite the timer getting faster and faster as the game goes on, players can unlock special abilities to freeze time and add a few more seconds.
"Watch the clock – and your six – to survive this fast-paced new Zombies game mode… and be sure to put the locational Ping system to use when playing with your squad," Treyarch warns.
PlayStation users, meanwhile, get exclusive access to the game's Onslaught mode, which is a faster experience with shifting safe zones.