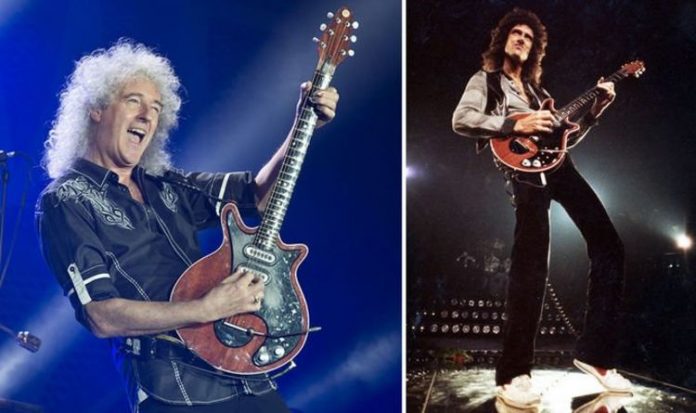 May beat the likes of Van Halen's Eruption, Led Zeppelin's Jimmy Page in Stairway to Heaven and Eagles' Joe Walsh in Hotel California.
The Queen guitarist took to his Instagram to celebrate the news, admitting he was quite surprised.
The 73-year-old wrote: "The Greatest Guitar Solo of All Time ?!! Wow … (gulp) …
"BIG thanks, all yous very kind Total Guitar readers !!! I am not worthy, but it's much appreciated. Bri."
Of course, Freddie Mercury wrote Bohemian Rhapsody's lyrics, but the well-known guitar solo was May's work.
Speaking with Total Guitar, the Queen legend said of the recording session: "Yeah I basically sang it.
"I regard the guitar in that situation as a voice. I could hear this melody and I had no idea where it came from.
"That melody isn't anywhere else in the song, but it's on a familiar chord sequence, so it dovetails in quite nicely."
Last summer, Total Guitar readers also voted Queen's Brian May as the greatest guitarist of all time.
The 73-year-old topped the likes of Eric Clapton, Eddie Van Halen, Jimmy Page and even Jimi Hendrix.
At the time, he said: "I'm absolutely speechless. I'm blown away.I have to say it's completely unexpected.
"Obviously I'm deeply touched that people feel that way about me.I'm not under any illusions that, technically, I'm even on the tree of great guitarists."
The Queen legend continued: "I guess this tells me that what I've done has affected people, and that means a great deal to me.
"I will never claim to be a great guitarist in the sense of, you know, a virtuoso. I guess I just try to play from my heart and that's about."
On beating Hendrix to the top spot, May said: "Oh my god! Well, it is very humbling.
"Jimi is, of course, my number one and I've always said that."