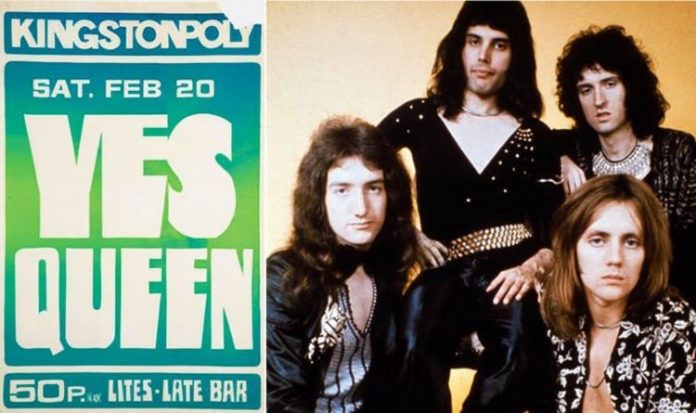 Back in 1971, Queen was still an unknown band, who took second billing at a student gig behind fast-rising act Yes. At the weekend, Brian was reminded of those days by the agent who booked both bands for the show and had words of wisdom for future rock stars. But the man who John Deacon replaced as Queen's bass player also remembered the heated confrontation after the show and the moment "Freddie announces he doesn't want to continue."
Queen played at a student party at Kingston Polytechnic on February 20, 1971.
Their bass payer at the time was Doug Bogie, their third in the newly-named line-up after Mike Grose and Barry Mitchell.
Thinking of Queen reigning supreme at Live Aid in all their majestic pomp, it is hard to imagine a young band crammed in the back of a van after a local gig. But Doug gave a vivid insight into the stresses and strains the band was under as they tried to find a sound, a line-up and a record deal. 
READ MORE: Queen's Bohemian Rhapsody lyrics – We all get the same line WRONG
Doug said: "I thought that we have played two excellent and exciting gigs.
"However, in the back of the borrowed van after the Yes gig at Kingston Polytechnic, there was one of those taking everything apart discussions: 'so everything is terrible', 'it's a waste of time', and Freddie announces he doesn't want to continue.
"So, as the new boy who knows nothing of their past activities and relationships, I just accept that that is the end of the experiment!
"A shame, but not unusual with bands with creative members."
But ten days later, the final piece of the puzzle would fall into place.
On March 1, 1971, the band formally invited 19-tear-old student John Deacon to join them.
Brian, in particular, has spoken openly of the struggles to secure a record deal and wider visibility. His and John's previous band, Smile, had a record deal but were unable to make any impact on the charts.
Soon after the Kingston gig, Queen watched Yes begin their steady rise to fame as leaders of the progressive rock scene. Their third album, The Yes Album was released that month and peaked at Number 4 on the UK. 
On April 1 the band appeared on Top of teh Pops, alongside Olivia Newton-John, T-Rex, Elvis and the dance troupe Pan's People.
Fame and fortune for Queen were still a few years away. But, looking back on those days in early 1971, Brian was philosophical when he posted the image of a promotional advert for the gig, send to him by Conroy.
He said: "Had to share this! An e-mail today from an old friend – Paul Conroy, who, 50 years ago, was a very influential agent on the budding Rock scene in London. He was present when we were auditioning bass players, helped us tentatively find a way into the live circuit, and played our first demos to the then very powerful Tony Stratton-Smith – boss of Charisma Records>"
Brian added: "As far as I remember, he passed – and we signed to Trident and the rest is … erm … a murky history! Thanks Paul."
The Queen legend added a message for any aspiring band: ". And – a message to all ye young bands who might worry about your name being small on a poster, or flier, or ad, as this is … well, it's sure better than not being there, and … who knows where it might lead!!! We were lucky. I'll tell you a story…!!! Bri".