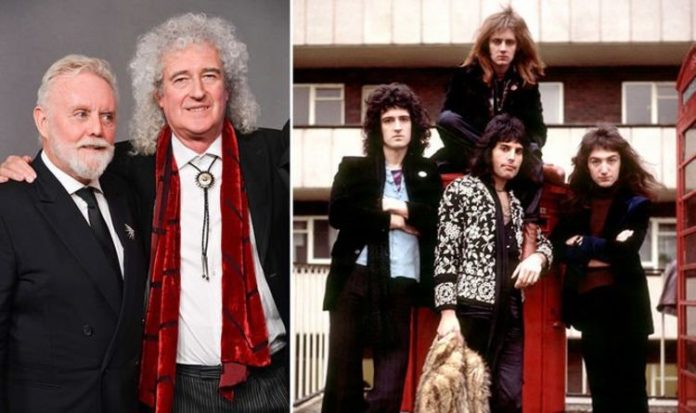 It was 50 years ago this year that Freddie Mercury first performed with Smile's Brian May and Roger Taylor, forming what became Queen. But it's actually next year which marks Queen's 50th anniversary when their full line-up with bassist John Deacon was completed. Express.co.uk recently caught up with May to ask what he and Taylor had planned to celebrate a half-century of the incredible rock band.
May shared: "It's funny because we've been looking at all this and Roger and I are going, 'Do we really want to celebrate being that old?'
He and Taylor, who are the only active members of Queen today, have been looking at all sort of designs and logos to mark 50 years of the band.
But afterwards, the Queen guitar and drummer said to each other: "Actually I don't think we want to do that, we just want to get out and play."
So, for now, such on-display celebrations of the 50th anniversary have been shelved.
READ MORE: Brian May and WOMAN release 'KICK-A**' blues rock charity single WATCH
May continued: "Probably another six months of rehab to get right back up to full strength.
"And then what is going on out there next May? I don't think anybody knows for sure."
The rock legend said the band hope they can fulfil all the commitments that have been carried over to next year.
He commented: "It's incredible to me that half a million people are hanging on to their tickets hoping that this will happen, same as we are."
May added: "So I'm hoping we can do all those European dates, come back and do our 10 nights at the O2; it's all be packed out and everything will be fabulous.
"I think we all think there will be compromises to be made and we'll have to figure out how that works out.
"I really don't know. If they tell us we can't fill those arenas, I personally don't know what will happen. So we'll have to see."
Queen and Adam Lambert's live album Live Around The World is out now.