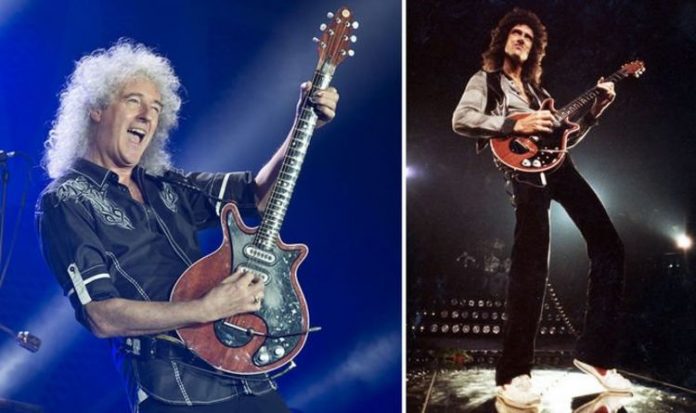 Brian May has had quite the career with next year marking the 50th anniversary of Queen's final line-up in him, Freddie Mercury, Roger Taylor and John Deacon. Now in an exclusive interview with Express.co.uk, the 73-year-old has shared the moment of his life that changed him as a person forever. And it turns out it took place 18 years ago.
Back in 2002, May was invited by Her Majesty to play God Save The Queen on the roof of Buckingham Palace.
The iconic electric guitar moment kicked off the Golden Jubilee's Party at the Palace, celebrating 50 years of Queen Elizabeth II's reign.
On that moment, the Queen guitarist said: "The roof was a very special thing, that's something you do once in your life.
"It was riveting and it was terrifying for me and it changed me as a person."
READ MORE: Queen and Adam Lambert: Brian May 'Not touring very HARD'
May said: "It's funny because we've been looking at all this and Roger and I are going, 'Do we really want to celebrate being that old?'
He and Taylor, who are the only active members of Queen today, have been looking at all sort of designs and logos to mark 50 years of the band.
But afterwards, the Queen guitar and drummer said to each other: "Actually I don't think we want to do that, we just want to get out and play."
So, for now, such on-display celebrations of the 50th anniversary have been shelved.
May added: "We want to celebrate being alive and being live. That would be the greatest thing to celebrate.
"I don't really care how long it's been to be honest. I'm just grateful that we're here."
Queen and Adam Lambert hope to continue touring in 2021 with their postponed UK and European dates from this summer.
But for now, their UK No 1 album Live Around The World is out now.