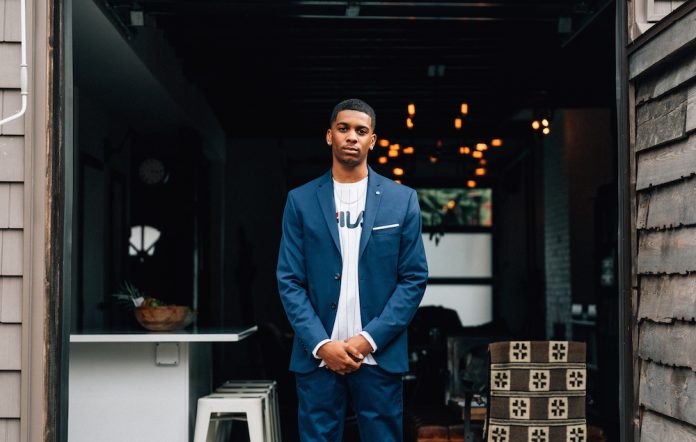 [ad_1]

Brett Gray has found himself at the centre of a Netflix-induced hurricane. As Jamal Turner, one of the lead characters in their critically applauded series On My Block, he's become a teen sensation overnight. Now the 21-year-old is proving he's not just a one trick pony, dropping his debut single 'Old Thing Back', a sunshine-drenched slice of laid-back R&B.
We caught up with the star to talk new music, dream collaborations and what he wants out of the second season of On My Block.
How's the reaction been to your new single 'Old Thing Back'?
"Oh my gosh, it's been awesome! Everywhere I go on the internet it's just sort of been blowing up. People have been tweeting, Instagram-ing and I premiered it on the radio here in New York. I've been overwhelmed, it's pretty crazy for my first single."
When did you start working on it?
"I started working on music as a whole a year ago. It was my first musical endeavour and I was super terrified. I've never sung before, and because it made me so afraid I was like, 'I have to do this and it's possibly something that could lead to more potential for myself.' That was sort of my journey."
Your EP 'Easy Day' is out in August, what sort of sounds inspired it?
"I grew up listening to early Chris Brown, early Usher, those guys are huge influences for me. I'm a huge fan of Beyoncé and Bruno Mars. People who cross-over genres and mix and matched with instruments and organic sounds. I was really influenced by the early 2000s and late '90s, that sort of R&B sound. That sort of time I was being moulded into an adolescent. That's why the EP is called 'Easy Day' because it's a sort of reflection of music that I was listening to back when the times were a little bit easier for me."
Who's your dream collaborator?
"I would love, love, love to work with Bruno Mars. I think that would be super dope. I think we have similar flavours of music, I think we both like to dance and there's an easy listening, effortlessness to his sound. I'd also love to work with Chance The Rapper because I also think he has an effortlessness to his sound."
What can people expect from the rest of the EP?
"I think they can expect to continue to be surprised. 'Easy Days' is my first EP in the sense that there's only seven songs, but actually it's more of a mixtape. There's not really a lot of continuity in the sound. Each song is sort of reminiscent of a different time period. There's gonna be some sounds that are gonna take you way back, there's gonna be some sounds that are more modern, there's gonna be some subject matter that is a little bit more provocative. Just get ready for a ride."
I have to ask, are we now going to see Jamal releasing music in On My Block ?
"I hope so! I don't know much about season two, but I guess the sky's the limit. My showrunner, Lauren Iungerich, and my executive producers are so excited about my music, which I didn't expect. Everyone at Netflix has been supportive, I can't wait to see what they're going to do. Maybe not, maybe so, maybe Jamal will have some more musical scenes or musical episodes but I am honestly hoping for whatever."
So you haven't started filming for the next season yet?
"No, we start filming in late September."
The reception to On My Block has been amazing. Did you expect it to have that kind of response?
"I knew that if people watched the show, they would get that response. On Netflix it's hard to get people to watch shows because Netflix has so much original content that it's easy for shows to fall by the way-side if the word of mouth isn't there. But, we knew that if people catch on, they'll love the show because we knew it's incredible. It was out of our control but people caught on, shared, liked, and talked about it."
What do you want to happen to Jamal in the next season?
"I try to be as open as possible with that, there's not anything I want to happen but I'm excited to see more of Jamal's family life and the pressure there was on him growing up in the circumstance along with Ruby, Monse, and Cesar. Having money now, seeing what decisions that pressure makes him do, and if that changes his character or not, is what I'm excited to see."
Brett Gray drops his EP 'Easy Days' on 8th August. Single 'Old Thing Back' is out now.
[ad_2]