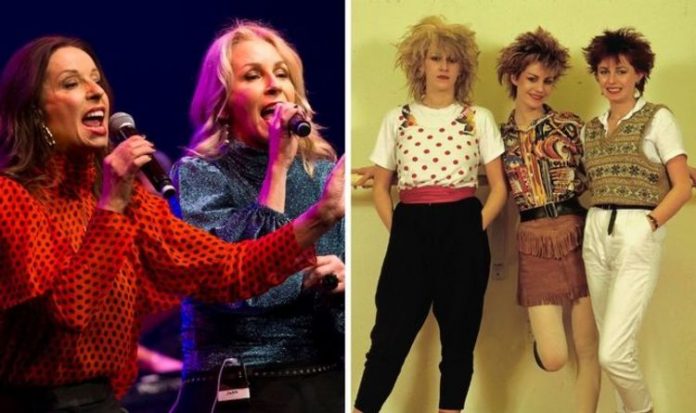 Bananarama are known for their mega-hits Venus, Robert De Niro's Waiting and Love in the First Degree, to name a few. The group, outside of their music, gained somewhat of a reputation for their strength of character, and soon the three-piece became quite a bit smaller. So who is now in Bananarama, and who left the band?
Bananarama came together in 1981 and had years of making big hits, including the cover of Shocking Blue's song Venus, which truly launched them into pop stardom.
The original line-up was childhood friends Sarah Dallin, Keren Woodward and Siobhan Fahey, who Sarah met at college.
According to their former producer, Peter Waterman has said the three-piece band was "difficult" to work with, and he even described the artists as "punks".
He told The Sun: "I fought with them about everything. They saw themselves as punks who were not prepared to be manipulated by any man.
READ MORE:  Star Wars behind the scenes: The secrets of how Yoda's home was built
While there did not seem to be any immediate fall-outs, it was later reported the group's break up was pretty messy and Keren and Sarah did not speak to Siobhan for a long while.
After leaving the band Siobhan co-founded Shakespears Sister with Marcella Detroit, and later admitted her reason for leaving the band was due to differences over the band's direction.
She told The Guardian: "It was a combination of the fact that, musically, we'd gone absolutely full-on pop, at a time when I was feeling lost and dark and depressed in my life.
"I was obsessed with the Smiths. It had been a real pressure cooker, the three of us being together 24/7 for years. It couldn't continue."
DON'T MISS
Siobhan has also spoken out about the Stock Aitken Waterman "Hit Factory" of which Bananarama were a part, claiming this was another reason for her decision to leave the band.
Keren, speaking to The Guardian in the same interview, said of the Hit Factory: "Peter was an ideas man, but he was never in the studio anyway."
Siobhan added: "That's because I said I can't be in the studio with him."
The group did not speak after 10 years, with Siobhan calling the band's break up "a painful divorce".
She said: "There were sore feelings on both sides. I felt really isolated within the band for a year before I left. And they felt betrayed that I left."
Another aspect to their break up was also in Siobhan's marriage to Eurythmics star Dave Stewart, which Keren has said she thought was also a contributing factor to Fahey's departure.
After Siobhan's departure, Keren and Sarah replaced her with Jacquie O'Sullivan, however, this was short-lived and by 1992, the childhood friends were performing as a duo.
The original band line-up reunited in 2017 and they performed a sell-out tour all over the country, however, their final dates as a trip were August 2018.
Keren and Sarah made a new album in 2019 and are releasing a memoir about their time in Bananarama, while Siobhan revived Shakespears Sister with Marcella, performing throughout 2019.