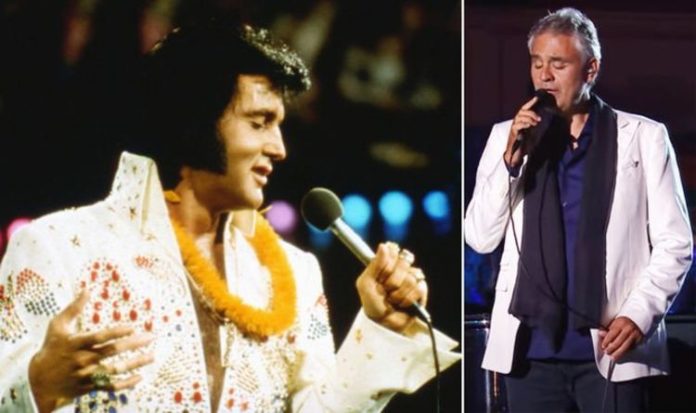 Andrea Bocelli is best known as a classical tenor, but he's branched out in recent years, even singing some Elvis Presley. Back in 2012, the star performed a concert in Portofino, Italy with pianist David Foster where he gave a live rendition of the hit track. Before performing, Foster said: "We're going to Las Vegas now. This is so surreal to me to have Andrea Bocelli, the great tenor, in Portofino under the stars.
Foster continued: "He said to me, 'I want to do an Elvis Presley song.'
"Now Elvis Presley is a Rock and Roller, but he did have some great love songs and we'd like to do one of them for you right now."
Bocelli then broke into Love Me Tender accompanied by Foster on the piano and an orchestra.
The Italian tenor's cover of the 1956 Elvis hit features on his 2013 album Passione.
READ MORE: Andrea Bocelli: The spectacular first time he sang Con te Partiro
Love Me Tender's lyrics are credited to both Elvis and Ken Darby under the pseudonym of Vera Matson, the name of the latter's wife.
While the melody is adapted from an American Civil War Ballard called Aura Lee.
Elvis famously performed Love Me Tender on The Ed Sullivan Show on September 9, 1956 before its release.
And, of course, the track's name was also shared by The King's acting debut that year too.
Originally the track was written for a female singer and was called Can't Help Falling In Love With Him.
This is why the first and third lines when sung by Elvis and Bocelli ended with the words "in" and "sin".
Most recently, Bocelli's latest album Believe features a cover of Leonard Cohen's Hallelujah, plus Christian favourites Amazing Grace and Ave Maria.
The record also features a couple of new duets with Alison Krauss and Cecilia Bartoli, which had to be recorded remotely due to the pandemic.
Now 62-years-old, Bocelli said how his new album is one that he holds very dear to his heart.
He added: "The fruit of a long internal journey even more so than an external, artistic one.
"It's a project with a purpose to put into words the musical dimension of spirituality by offering music that – at least for our intentions – can bring peace and harmony to those who listen to it."
Andrea Bocelli's Believe is out now.