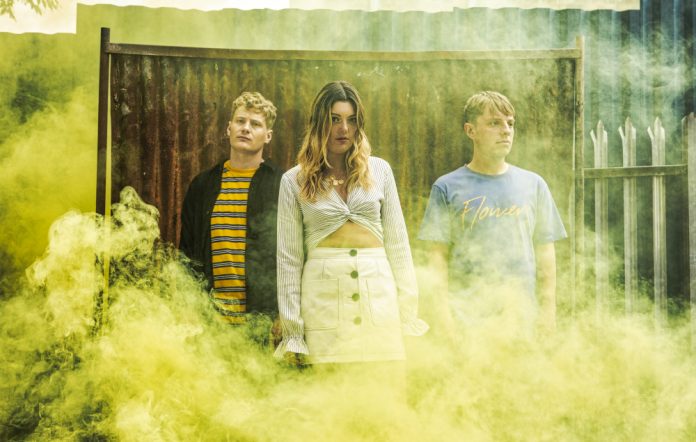 [ad_1]

Hailing from the decidedly un-sunny climes of the British midlands, Patawawa's music is the polar opposite of their surroundings. Bright and breezy alt-pop with a danceable edge, the three-piece fuse sunny-side-up sensibility with an ear for lingering melodies that will stick with you for days.
Still a fresh-faced prospect, recent single 'Lies' fizzes with that youthful energy. Syrupy basslines and a honeyed vocal combine to create a concoction of sugary sweet pop, perfect for festival tents and late night parties, as singer Beth Garrett weaves a darker tale of deception around the spiralling synths.
We caught up with the trio to get the essential lowdown on all things Patawawa.
They're longtime friends from a small town
Hailing from Matlock in Derbyshire, the three of them met in primary school, with Rory Lovatt and Beth Garrett sharing the same guitar teacher as young'uns. "We never actually spoke to each other, we just walked past each other," laughs Rory, "We heard Beth could sing about eight years later…"
"And the rest is history!" quips bandmate Sam Wilmott.
They bill themselves as "a 100% self-sufficient music-making machine"
"It's all in-house… well, in bedroom," explains Rory of their creative process. Building all the music in his bedroom studio, he then hands over the reigns to Beth and Sam, who add the final pieces of the puzzle. Rejecting outside help, the trio's dedication to that do-it-yourself mindset creates a sound that's as confident as it is catchy.
Their next single is just around the corner
'Fight Me' is due out on June 29, with Sam explaining that it's "about addiction – some people think it's a love song, but it is actually about addiction. It's quite funky and quite… Patawawa-esque!"
You catch them on the road this October
Patawawa will be bringing their fun-filled live show to all corners of the UK this Autumn, with London, Manchester, Bristol, Birmingham, Newcastle and more set to play host to the trio. "A Patawawa show is high-energy, lots of fun, not too serious and – my favourite word – vibes!" says Sam.
They're "in it for the LOLs"
Never ones to take themselves too seriously, Beth admits that Patawawa are just looking for a good time. "I think, in this industry, people are so uptight – but it's just for fun! It's just music!" she says, before Sam adds with a grin: "We're relaxed geezers."
Click or tap to zoom into this image
This is an image

1
of
5

BETH:
Green jacket, £95, jeans, £46, both Topshop.
Top, £6.99, New Look.
Shoes, £80, Fila at Schuh

/ SAM:
Blue jacket, £60, Mennace.
Jumper, £35, ASOS.
Trousers, £20, ASOS. Shoes, £60, Vans at Schuh.

/ RORY:
Jeans, £34.99, Bomber jacket, £24.99, white top, £7.99, all New Look
Printed shirt, (worn underneath), £85, Reiss
Shoes, £65, Vans at Schuh

PRODUCTS USED:
VO5 Texturising Gum 75ml £4.39*
VO5 Rework Putty 150ml £4.39*

Glitters:
VO5 Power Pink Hair Glitter 7g £5.99*
Ocean Blue Hair Glitter 7g £5.99*
Mermaid Green Hair Glitter 6g £5.99*

*Retail prices are at the sole discretion of the retailer
Click or tap to zoom into this image
This is an image

2
of
5

SAM:
Trousers, £20, ASOS
Black shirt, £155, Norse Projects
T-shirt (worn underneath), £22, Urban Outfitters
Shoes, £60, Vans at Schuh

PRODUCTS USED:
VO5 Texturising Gum 75ml £4.39*
VO5 Rework Putty 150ml £4.39*

*Retail prices are at the sole discretion of the retailer
Click or tap to zoom into this image
This is an image

3
of
5

RORY:
Top, from £65, Double Rainbouu
Jeans, £24.99, New Look
Shoes, £65, Vans at Schuh

PRODUCTS USED:
VO5 Texturising Gum 75ml £4.39*
VO5 Rework Putty 150ml £4.39*

*Retail prices are at the sole discretion of the retailer
Click or tap to zoom into this image
This is an image

4
of
5

BETH:
Top, £29, Skirt, £95, both Topshop
Shoes, £40, Schuh
Jewellery, all necklaces from £3.99, New Look

PRODUCTS USED:
VO5 Texturising Gum 75ml £4.39*
VO5 Rework Putty 150ml £4.39*

Glitters:
VO5 Power Pink Hair Glitter 7g £5.99*
Ocean Blue Hair Glitter 7g £5.99*
Mermaid Green Hair Glitter 6g £5.99*

*Retail prices are at the sole discretion of the retailer
Click or tap to zoom into this image
This is an image

5
of
5

BETH:
Green jacket, £95, jeans, £46, both TOPSHOP
Top, £6.99, New Look
Shoes, £80, Fila at Schuh

PRODUCTS USED:
VO5 Texturising Gum 75ml £4.39*
VO5 Rework Putty 150ml £4.39*

Glitters:
VO5 Power Pink Hair Glitter 7g £5.99*
Ocean Blue Hair Glitter 7g £5.99*
Mermaid Green Hair Glitter 6g £5.99*

*Retail prices are at the sole discretion of the retailer
[ad_2]