[ad_1]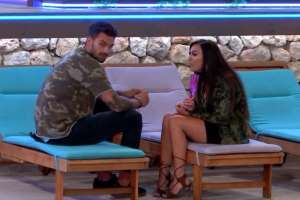 © Provided by Independent Digital News & Media Limited


Women's Aid has issued a warning in light of Tuesday's episode of Love Island, stating that one of the contestants has displayed "clear warning signs" of "gaslighting and emotional abuse".
The domestic abuse charity called out 22-year-old personal trainer Adam Collard for his treatment of fellow contestant Rosie Williams on the ITV2 reality series.
Despite being "coupled-up" with Rosie – and getting intimate with her just days earlier – the episode showed Adam ditch the 26-year-old solicitor for newcomer Zara, a move which climaxed in a heated confrontation between Adam and Rosie, in which he told her she had "pushed him away" for showing signs of jealousy at his interest in Zara.
It's easy to be led to think ur overreacting when ur on the receiving end of this behaviour, especially after seeing it happen to others on tv constantly, especially when the men on tv band abt the words 'psycho' & 'crazy' to ensure it comes across like the woman is in the wrong

— 🖤🕷🖤🕷🖤 (@mellowdrone__)

June 20, 2018
The charity's statement highlighted the problematic nature of Adam's behaviour from an abuse perspective, using it as an example of gaslighting, whereby someone is manipulated to the extent that they start to doubt their own judgement.
"On the latest series of Love Island, there are clear warning signs in Adam's behaviour," the statement reads.
"In a relationship, a partner questioning your memory of events, trivialising your thoughts or feelings, and turning things around to blame you can be part of pattern of gaslighting and emotional abuse.
"Last night, Rosie called out Adam's unacceptable behaviour on the show. We ask viewers to join her in recognising unhealthy behaviour in relationships and speaking out against all forms of domestic abuse – emotional as well as physical.
Adam is violent. What did Rosie do to him that he's treating her this way???#LoveIsland

— preorder #TheBigO (@Oloni)

June 20, 2018
"It is only when we make a stand together against abuse in relationships that we will see attitudes change and an end to domestic abuse."
Women's Aid aligns emotional and psychological abuse with domestic abuse on its website, writing that "in the vast majority of cases it is experienced by women and is perpetrated by men" and can affect a victim's mental health and emotional wellbeing.
"I trusted you when I shared that night with you, you had what you wanted and ditched me 12 hours later," Rosie said of the intimate encounter between the couple that aired on Sunday's episode.
"You can't treat girls like that. You will never ever be happy because you are constantly searching for more – you trick girls into thinking that you are in here for a serious relationship; you're in here to rack up your numbers […] you made me believe that we really had something."
Despite saying that his actions had "really hurt" and "upset" her, Adam seemed entirely unfazed by Rosie's distress, sarcastically responding, "debatable" when she said she had done nothing wrong and denying responsibility by placing the blame on her for their now fractured relationship.
👏👏👏 well said @womensaid – so, so important to recognise and vocalise @LoveIsland#Adamhttps://t.co/jrWuZ4iYVW

— VP (@Victoria1Palmer)

June 20, 2018
Just last week, Adam behaved in a similar manner with contestant Kendall, who was dumped from the villa after he switched loyalties by pursuing Rosie when she first arrived.
After Tuesday's episode aired, social media was quickly alight with men and women condemning Adam's behaviour as "insidious" and "manipulative".
Adam's behaviour towards Rosie has prompted @womensaid to make a statement. Please read it. You or someone you care about could be affected by issues like this in your relationship. KW. #LoveIslandhttps://t.co/nMtjRrKCKv

— Guilty Feminist (@GuiltFemPod)

June 21, 2018
For more information and support for those experiencing abuse in a relationship, visit www.womensaid.org.uk.
Related: If these 30 signs sound familiar, you need to get out of your relationship ASAP (POPSUGAR)



If These 30 Signs Sound Familiar, You Need to Get Out of Your Relationship ASAP


MSN Loneliness Campaign: Could you go a week without seeing anyone? We're helping three charities raise funds for the 9 million people affected by Britain's 'silent epidemic'. Find out more and please donate now.
[ad_2]