[ad_1]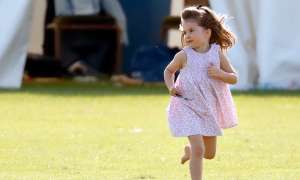 © Copyright ¡HOLA!
Hello! Magazine


Prince William has opened up about Princess Charlotte while visiting Liverpool on Tuesday, and revealed that his only daughter is already a huge fan of fashion! The dad-of-three made the remarks after being gifted a pink satchel for the little Princess which was embossed with her name. Speaking to the Liverpool Echo, bag-makers Keith and Gail Hanshaw revealed that he said: "Charlotte will be obsessed with that – I'll never be able to get it off her." The three-year-old clearly has a penchant for accessorising, as she was snapped making her mum laugh while donning a pair of white-framed sunglasses while at a charity polo match in mid-June.
The Duchess of Cambridge has previously revealed that Charlotte loves the colour pink, and William confirmed that she would especially love the bag, aptly named a 'Mini-Windsor', thanks to its pastel pink colour. The youngster is regularly seen wearing pink, and wore a pretty pink flowery dress while watching her dad play polo. The little one is clearly getting tips from her style icon mum, particularly as the pair regularly coordinate their looks. The pair looked especially alike at the Trooping the Colour in early June, where they both wore light blue frocks, which also complemented the Queen's sky blue ensemble.


© Reuters
Britain's Princess Charlotte (L) leaves St George's Chapel in Windsor Castle after the royal wedding ceremony of Prince Harry, Duke of Sussex and Meghan, Duchess of Sussex in Windsor, Britain, 19 May 2018. The couple have been bestowed the royal titles of Duke and Duchess of Sussex on them by the British monarch. NEIL HALL/Pool via REUTERS


Charlotte loves the colour pink
The Duke and Duchess of Cambridge often share anecdotes about their three children, George, Charlotte and Louis, and William has previously revealed that Charlotte "loves dancing", loves eating pasta and likes horse riding. A source told People that the youngster is "very sweet and very confident – she's always chatting away", and has "beautiful manners". She stole the show at the royal wedding of her uncle, Prince Harry, and Meghan Markle, as she reportedly took charge of the bridesmaids. A guest told People: "There was one girl who wanted to go and she said, 'No you can't go yet. We have to wait until we are asked.' She was really organised!"
Related: Cutest pictures of Prince George, Princess Charlotte and Prince Louis (GES Photo)



Cutest pictures of Prince George, Princess Charlotte and Prince Louis


MSN Loneliness Campaign: Could you go a week without seeing anyone? We're helping three charities raise funds for the 9 million people affected by Britain's 'silent epidemic'. Find out more and please donate now.
[ad_2]