[ad_1]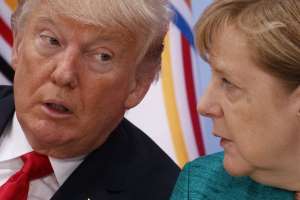 © AP


Editor's note: The opinions in this article are the author's, as published by our content partner, and do not represent the views of MSN or Microsoft.
In the midst of an escalating trade war with China and fresh from a nuclear summit with North Korea, Donald Trump took time out to attack Angela Merkel. "The people of Germany are turning against their leadership," tweeted the US president, adding that "migration is rocking the already tenuous Berlin coalition".
The US president's direct attempt to undermine the German chancellor is remarkable. It is also very telling. For the two leaders have taken radically different approaches to the explosive questions of refugees and illegal migration. For Mr Trump and his alt-right allies in Europe, the fall of Ms Merkel would be a kind of vindication — proof that her decision to allow more than 1m migrants into Germany in 2015 has been decisively rejected by the electorate.
This matters to Mr Trump because taking a harsh line on migrants and refugees has become his signature policy. His administration is embroiled in a bitter controversy about its policy of interning the children of would-be migrants.
Related: 'Fair trade? Fool trade!' Trump vents anger against allies post-G7
Mr Trump and his supporters want to use Europe as an example of the alleged folly of taking a more tolerant and humane approach to refugees. The president latches on to any incidents of unrest or violence in Europe, real and imagined, to hammer home his arguments that Merkel-style migration policies represent the route to perdition. In the same tweet, Mr Trump proclaimed: "Big mistake made all over Europe in allowing millions of people who have so strongly and violently changed their culture!"
Steve Bannon, Mr Trump's erstwhile campaign manager and chief strategist, has been particularly assiduous in building up links with Europe's nationalist right. Mr Bannon has taken a particular interest in the rise of the anti-migration League party in Italy and has also hailed Viktor Orban, the prime minister of Hungary who built a steel fence to stop flows of refugees, as "a real hero". For ideologues such as Mr Bannon and Stephen Miller, a White House policy adviser, Europe and the US are part of a single struggle to save the west from being overwhelmed by mass migration.
The Trump camp clearly feel that events in Europe are moving their way. The League's Matteo Salvini is now Italy's interior minister and has immediately set about preventing boatloads of migrants from landing in Italy. And Ms Merkel herself is under immense political pressure in Germany, as her political allies in the CSU threaten to collapse her government unless Germany moves to a policy of turning away migrants at the borders.
The broader trends in Germany also provide some evidence for the alt-right's view that public opinion is sympathetic to their views. A recent poll showed that 86 per cent of Germans favour more forcible repatriation of migrants and 69 per cent support replacing cash transfers to refugees with in-kind benefits.
By contrast, Mr Trump — although hardly popular — has just seen his approval rating hit a new high for his presidency of 45 per cent. Nonetheless, the crisis over child migration is a severe test for the US president. The images of anguished parents and weeping children have prompted protests from unusual quarters — including Laura Bush, the wife of former president George W Bush and even (implicitly) Mr Trump's own wife, Melania.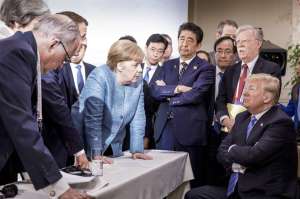 © AP


The extent to which Ms Merkel and Mr Trump are now rivals was captured by the already famous photo from the G7 of the US president sitting down and glowering, with his arms folded, while the German chancellor looms over him, backed by a posse of other western leaders.
But for all their undoubted rivalry, Mr Trump and Ms Merkel are in oddly similar political positions. Both the German chancellor and the US president are following policies on migration that are testing the limits of public opinion.
Follow us on Facebook, and on Twitter
[ad_2]