[ad_1]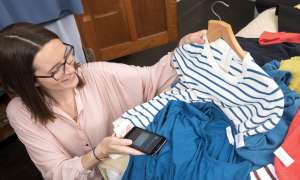 John Lewis is to buy back worn and unwanted clothing from its customers – including underwear and old socks – in a UK industry first that aims to reduce the 300,000 tonnes of fashion waste going into landfill each year.
Customers can arrange through an app to have any unwanted clothing that they bought from John Lewis collected from their home, and they will be paid for each item regardless of its condition.
The pilot scheme has been developed with Stuffstr, a social enterprise.
"We already take back used sofas, beds and large electrical items such as washing machines and either donate them to charity or reuse and recycle parts and want to offer a service for fashion products," said Martyn White, the retailer's sustainability manager.
He said the average UK household owned about £4,000 worth of clothes, almost a third of which had not been worn for at least a year, mostly because items no longer fitted.
Customers using the app can choose what they want to sell and are shown the amount they can receive for them. Once a customer has at least £50 worth of clothing to sell, a courier will collect the products. The customer is then emailed a John Lewis e-gift card for the value of the items sold.
Items bought back are either resold – though not in John Lewis stores – mended for resale or recycled into new products.
Last year John Lewis took back for "upcycling" more than 27,000 electrical products and about 2,000 used sofas, and recycled materials from 55,000 mattresses.
John Atcheson, the chief executive of Stuffstr, said: "Every item has value, even old socks, and we want to make it as simple as possible for customers to benefit from their unwanted clothes."
The pilot is the first clothing recycling scheme on the high street to use technology in a way that provides its users a financial incentive. Marks & Spencer's "schwopping" scheme, launched in 2012, has prevented more than 7.7m items of clothing from being thrown away, while brands including H&M and Zara have stepped up in-store recycling initiatives.
A report on the scale of waste generated by the fashion industry, published last November by the Ellen MacArthur Foundation, put the annual cost to the UK economy of landfilling clothing and household textiles at about £82m.
Francois Souchet, of the Ellen MacArthur Foundation, said: "Every second the equivalent of one truck full of clothes is sent to landfill or incineration. Creating a circular economy for fashion requires unprecedented levels of collaboration."
A special message from MSN:
Nine million people across all age groups and walks of life in Britain are affected by loneliness. We've partnered with giving platform Benevity to raise funds for three charities – Mind, the Campaign to End Loneliness, and Wavelength – to tackle this debilitating and complex issue. You can help make a difference – please donate now.
Follow us on Facebook, and on Twitter
[ad_2]