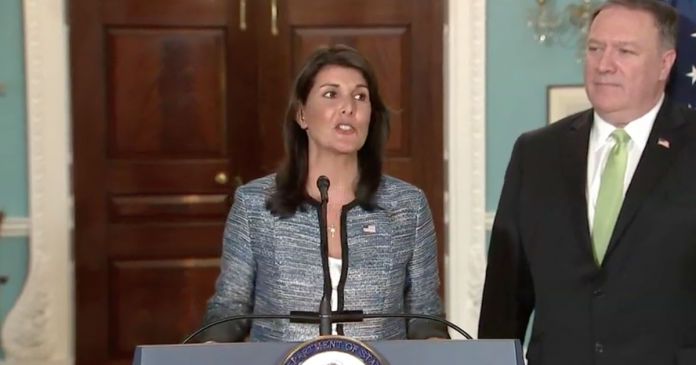 [ad_1]

The U.S. is withdrawing from the United Nations Human Rights Council, U.N. Ambassador Nikki Haley and Secretary of State Mike Pompeo announced late Tuesday afternoon. After a year of reassessing the council, Haley said the U.S. has determined the 47-member body is in worse shape now than it was before, and because of that, the U.S. is leaving. 
"Human rights abusers continue to serve on and be elected to the council," Haley said as she made the announcement. "The world's most inhumane regimes continue to escape scrutiny, and the council continues politicizing and scapegoating of countries with positive human rights records in an attempt to distract from the abusers in their ranks. Therefore, as we said we would do a year ago if we did not see any progress, the United States is officially withdrawing from the UN Human Rights Council."
Haley also cited with the U.S. sees as the body's unfair bias against Israel. The withdrawal is not a surprise — the Trump administration has mulled an exit for the greater part of a year. National Security Adviser John Bolton, who joined the White House earlier this year, has also consistently opposed the body.
Less than two weeks ago, Haley publicly said the U.S. would leave the body if changes weren't made, declaring the council's "relentless, pathological campaign" against Israel "makes a mockery not of Israel, but of the council itself." Haley has placed the blame for the Gaza strip conflict on the Palestinians, and says Israel has a "strong human rights record."
In March, Haley noted the UNHRC had adopted five resolutions condemning Israel and only one resolution each against, North Korea, Iran and Syria. Since its inception, the council has passed more than 70 resolutions targeting Israel and seven on Iran.
"Our patience is not unlimited. Today's actions make clear that the organization lacks the credibility needed to be a true advocate for human rights," Haley said in March.
Haley has called for a more transparent review of its members and pointed out that member countries like Venezuela, Cuba, China, Burundi and Saudi Arabia do not uphold the highest standards of human rights.
The most recent tension between the U.S. and the council came Monday, when the U.N. Human Rights Commissioner Zeid Ra'ad Al Hussein called Mr. Trump's zero-tolerance policy that has caused family separation at the border "unconscionable."
This wouldn't be the first time the U.S. has declined to be a part of the council. When it was created in 2006, then-President George W. Bush decided the U.S. would not participate. 
— ' Kylie Atwood contributed to this report 
© 2018 CBS Interactive Inc. All Rights Reserved.
[ad_2]