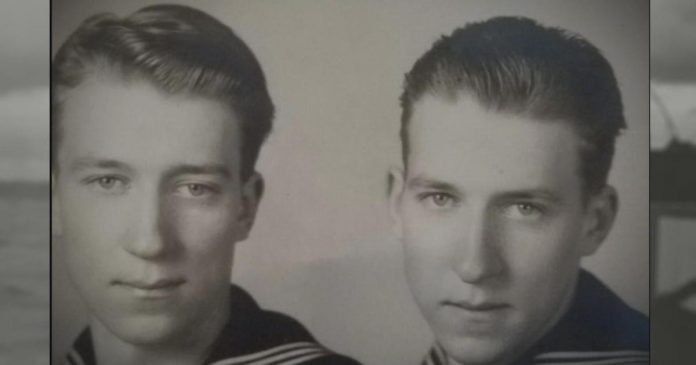 [ad_1]

COLLEVILLE-SUR-MER, France — Omaha Beach is empty and peaceful now. But 74 years ago, 13 days after D-Day, allied forces were frantically landing soldiers and supplies, beginning their push through France.
Making a run to the beach on their tank landing craft were 19-year-old Navy operators who were identical twins: Julius "Henry" Pieper and Ludwig "Louie" Pieper from Creston, Nebraska. Their ship hit a German mine and exploded. Louie's body was found and was buried with the other American casualties in the cemetery just above Omaha Beach. But Henry's body was never identified until now.
Seventy-four years later, the inseparable Pieper twins, whose service on the same ship ran against standard military policy, have been reunited.
"They pleaded with grandpa," said Linda Suitor Pieper, their niece. "Grandpa then wrote a letter to their commanding officer saying, 'My boys came into the world together, they want to serve together, and if they go down together, so be it.'"
That's how the twins ended up serving on the same ship. French salvage divers had found human remains on the wreck in the 1960s and they were taken to a U.S. lab in Belgium. But a positive identification wasn't made until 2017, and it took a Nebraska high school student doing a history project to put together what the military had not.
"She ran across my uncles' names, and they said, 'Oh, same name! Oh, same birth date! Oh, same death day!' and she knew she had a story there," Pieper said.
"I'm just really happy for them that they are finally being buried together and for the whole family that it kind of came to a conclusion, a happy conclusion like this, it's very exciting for them I am sure," said Vanessa Taylor, the student who made the discovery.
The Pieper boys were given full military honors. Inseparable in birth, in life and now, finally, in death.
© 2018 CBS Interactive Inc. All Rights Reserved.
[ad_2]