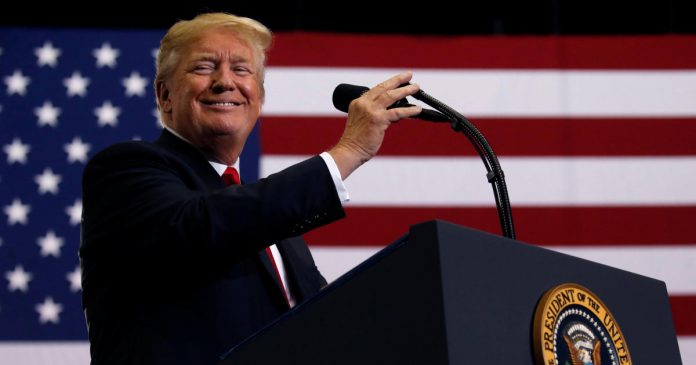 [ad_1]

A look at GOP Gov. Tim Pawlenty's critical comments of Trump
Few Republicans have criticized Trump more strongly than former Gov. Tim Pawlenty, who is seeking his old job.
In 2016, Pawlenty said Trump was "unsound, uninformed, unhinged and unfit to be president of the United States" in the days after a recording of the presidential candidate making vulgar comments about women surfaced. After launching his campaign in April, Pawlenty said he still voted for Mr. Trump in 2016 and supports the president's policies.
Jeff Johnson, the state GOP's endorsed candidate for governor, has been stronger in his support of the president. He and his allies have portrayed himself as more in tune with the party's base and say Pawlenty — who holds a huge fundraising advantage — should be disqualified for his criticism of Trump.
Republican political operative Gregg Peppin said it's another chance for Mr. Trump to aid an underdog candidate who has been a loyal supporter.
"I think it's a pretty cut-and-dried case in this instance," said Peppin, who worked for another GOP candidate for governor who has since quit the race. "It presents the president with an excellent opportunity to test his theory. Whether he'll do that, remains to be seen."
Mr. Trump has a mixed record when supporting his strongest defenders, including Roy Moore in a losing U.S. Senate campaign in deep-red Alabama. He has also shown himself willing to put aside grudges; he endorsed Mitt Romney, who called Trump a "fraud" in 2016, for Senate in Utah.
Johnson has made clear he'd like Trump's endorsement in the Aug. 14 primary against Pawlenty, but said he doesn't expect any help to come this week. Regardless, he planned to attend Wednesday's rally and hoped it will mobilize GOP voters for the summer.
"I truly believe that it will energize a lot of Republican voters in the state … and get people to start paying attention earlier than they normally would," Johnson said. "Part of my case is that it's going to be hard for Tim to win an election without bringing in some of the new voters that Donald Trump brought in in 2016. I just don't think Tim can."
[ad_2]