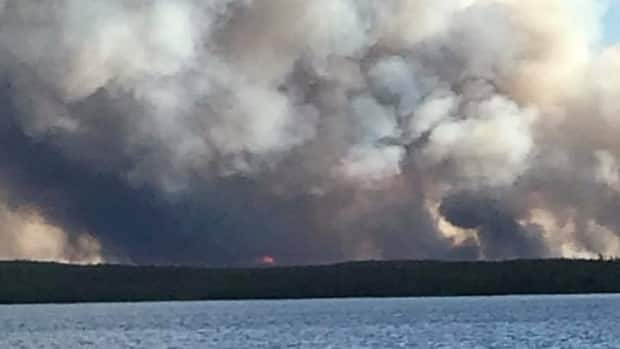 [ad_1]

A 3,000 hectare wildfire near the northeastern community of Southend has prompted an evacuation, with more than 700 people taken out by boat, bus and vehicle.
The Woods fire is burning about 13 kilometres southeast of the community of Southend in rough terrain which cannot be accessed by road, according to the Ministry of Environment. 
There are no fuel breaks between the area of the fire and Southend. Smoke in the area and road accessibility concerns prompted the evacuations.
The approximate break down of evacuees is as follows: 
162 people left the community by boat and are camped out on Reindeer Lake.
42 people went to Saskatoon by bus.
163 people left to Prince Albert by bus.
About 400 people left in 100 private vehicles. 
Evacuee registration for people arriving in Saskatoon and Prince Albert began Wednesday morning. People with health conditions will be given a hotel in Prince Albert, while the rest of the evacuees will be staying with friends and family.
People in Saskatoon requiring accommodation other than friends and family will have the option to go to the Henk Ruys Soccer Centre.
Southend is more than 180 kilometres northeast of La Ronge.
[ad_2]