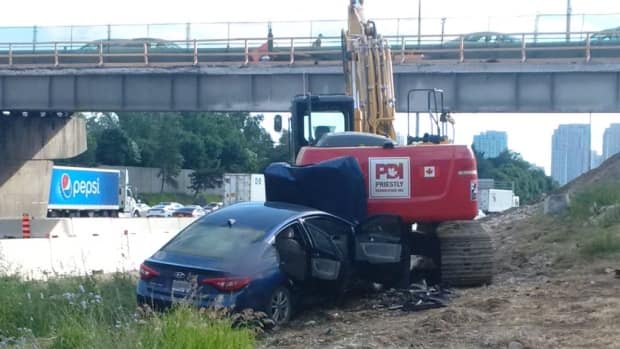 [ad_1]

A woman was critically injured early Tuesday after crashing her car into a parked excavator near Highway 401, police and paramedics say.
OPP say the crash happened in a construction area beside the eastbound lanes of Highway 401, just east of Avenue Road, shortly after 7 a.m.
Sgt. Kerry Schmidt said the blue sedan, left crumpled after the collision, was the only vehicle involved in the wreck. It's unclear what caused the crash.
Toronto paramedics took the woman, believed to be in her 50s, to a local hospital. 
"We are waiting for updates on her condition," Schmidt said.
Police have restricted part of Highway 401 near the crash site, and there is no access to eastbound collector lanes from Allen Road or Bathurst Street.
Schmidt said all Highway 401 eastbound traffic is being forced into the express lanes in that area and major traffic delays are expected.
The OPP's collision reconstruction team is investigating.
Anyone with dashboard camera video is urged to call the OPP.
Collision:<a href="https://twitter.com/hashtag/Hwy401?src=hash&amp;ref_src=twsrc%5Etfw">#Hwy401</a> EB collectors east of Avenue Rd. <a href="https://twitter.com/hashtag/Toronto?src=hash&amp;ref_src=twsrc%5Etfw">#Toronto</a> <br>Single vehicle drive into a construction area colliding with a stopped excavator. <br>Female driver transported with critical injuries<br>Investigation ongoing <a href="https://t.co/jocEAqQzWY">pic.twitter.com/jocEAqQzWY</a>

&mdash;@OPP_HSD
UPDATE: ROAD RESTRICTION: <a href="https://twitter.com/hashtag/Hwy401?src=hash&amp;ref_src=twsrc%5Etfw">#Hwy401</a> EB express to collectors before Allen Rd: No access to eastbound collectors from Allen Rd or Bathurst St. ^aw

&mdash;@OPP_GTATraffic
[ad_2]