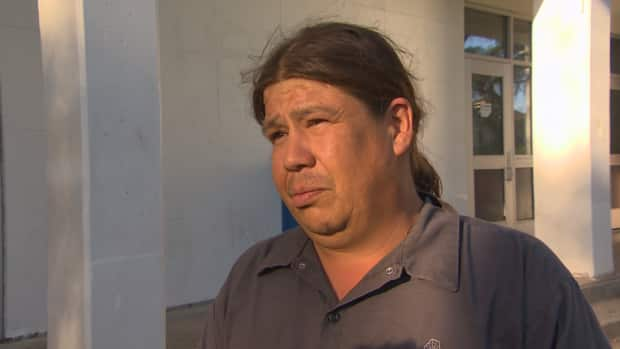 [ad_1]

After seeing his family torn apart by Winnipeg's methamphetamine crisis, Chris Spence went to St. John's High School on Monday night to tell his story.
"I'm here because I want to explain some of the roadblocks I faced trying to get my loved ones to rehab for meth addiction," said Spence, speaking at a forum organized by the Winnipeg Police Service to discuss the drug's impact on the community.
Spence has been trying to get three family members, all female, into rehab for the past two years. He says the bureaucracy of the system is part of the reason why he has been unsuccessful.
"First of all I have to go to the one [facility] in the city for females," he said. "In order to go there, you have to go there first in person, with your loved one, get an application form. Then they give you the application form, they give you a medical form that a doctor has to fill out."
"Then you have to take it back and book an appointment to see if they can get in. At that point, if it is in the evening, you're out of luck because there is no social worker there."
He said at that point, he is usually left waiting with his loved ones, who are wanting to take the drug more and more.
"Eventually they just lose hope and they just leave to go find the drug," he said.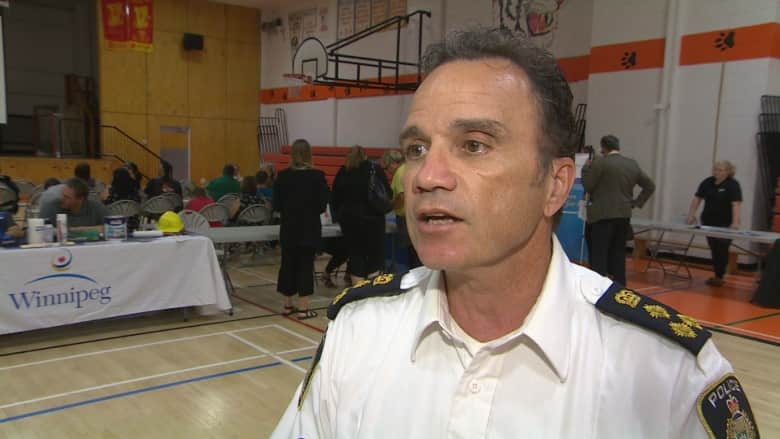 Winnipeg police Chief Danny Smyth at the community forum on meth Monday night at St. John's High School. (Travis Golby/CBC)
The event gave an opportunity for area residents to raise their concerns with people who can help, according to Winnipeg police Chief Danny Smyth.
"This is an opportunity to introduce [members of the public] to community support officers who are working out here so they get a chance to see some of the people working on these problems," he said.
Smyth said the event was about educating parents and raising awareness so young people would be prevented from getting involved in drugs in the first place.
Julia Robson, executive director of Onashowewin Justice Circle, an organization that works with people who come in conflict with the law, was among the 50-plus people who attended the forum.
She said she was there to have a better understanding on how to support people addicted to meth, in particular. 
'Follow a better path'
"We want a better understanding of the things that they are facing, so we thought it was important that we be here tonight," she said. "We try to get as much information as possible on what is available out there in order to help them follow a better path."
Spence said the toughest part of his situation is when he has to turn away his family members from his door when they need help.
"If they are really high, I have to tell them that there are other loved ones in the house that can't deal with your actions when you are all high," he said. "It is very hard."
When they cannot get help, he said, they are left at the mercy of their addiction.
"Addicts will do anything to get the drug," said Spence. "They are beautiful young ladies and they are being exploited. People are taking advantage of them, providing them with the drug."
[ad_2]