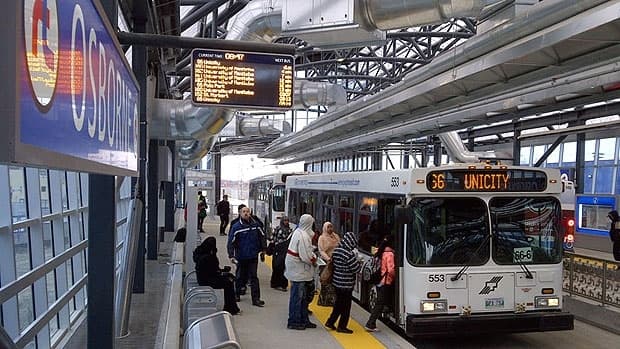 [ad_1]

The City of Winnipeg has filled in more detail about two potential routes for a new rapid transit corridor that would connect downtown with Transcona, and it wants the public to weigh in.
The East Transitway has been identified as the next priority for rapid transit development in the city once work is complete on Phase 2 of the Southwest Transitway, which is scheduled to be done in 2020.
Several question marks still surround the eastern project — notably, how much it will cost and where that money will come from — but this week, the city is holding a series of public information sessions seeking input on two potential routes hashed out as part of a design study that started last spring.
The broad strokes of both options have been sketched out previously, but Bjorn Radstrom, manager of transit service development with the city, said more specifics were added before the public was asked to give feedback.
The routes would start downtown at the Harkness Rapid Transit Station and either move down Mayfair Avenue and continue on Main Street to Graham Avenue, or travel on an elevated structure along the rail line from the station to Queen Elizabeth Way and over the Assiniboine River, connecting through Union Station to William Stephenson Way.
One option would then cross the Provencher Bridge and run through North St. Boniface on Provencher Boulevard, before connecting with either Nairn Avenue or Foster Street.
The proposed routes for the East Transitway. The line in green shows one option that runs through South Point Douglas, and the line in purple shows another that would pass through North St. Boniface. (City of Winnipeg)
The other would travel through South Point Douglas on Higgins Avenue, eventually using a river crossing that has yet to be determined. Options include redeveloping or replacing the Louise Bridge.
The routes would end in Transcona, moving along Nairn Avenue or Thomas Avenue before travelling down the Central Manitoba Railway right-of-way or Regent Avenue West, ending at the future Park City Commons development on Transcona Boulevard
"In St. Boniface, we'd be working on enhancing the great neighbourhood that they've got there," Radstrom said.
"In Point Douglas, where there's a lot of either underused or even abandoned industrial areas mixed in with some neat little residential and commercial developments, that would be more of … setting the stage for larger scale redevelopment of the neighbourhood.
Cost estimates will be determined as the study continues, Radstrom said. The study will submit a design recommendation to council for consideration late this year or early 2019.
The East Transitway is one of six proposed transitways Mayor Brian Bowman has said he'd like to see completed by 2030.
Kyle Goldstine, who lives in Norwood and works downtown, said both proposed routes missed the mark.
"I think there's definitely some routes that are kind of shocking that they were even proposed. The one going through the Exchange seems like a horrible idea," he said at an open house for the project at Pantages Playhouse Theatre on Monday evening.
"There's parts of it that seem like it's maybe just a cheaped-out version because almost all of it is just on the street and not necessarily overly rapid for what's supposed to be rapid transit."
Jim Chapryk, in white, speaks to Terry Woods, in green, about the proposed routes for the East Transitway at a public consultation on Monday. (Trevor Brine/CBC)
Of the two routes, he said he'd prefer the Provencher option, but he felt the city missed an opportunity to connect neighbourhoods in that area to the north part of downtown.
"A couple of the pillars they were talking about are city building and connecting neighbourhoods that weren't connected before, I think it's missing out completely on connecting Point Douglas and Elmwood and the Exchange and The Forks," he said. "It just seems very patchwork."
Jim Chapryk, who lives in North Point Douglas, said he's eager to see rapid transit developed in the city. He was a member of a community group advocating for the Southwest Transitway, he said, and he hopes improving transit will result in fewer vehicles on the road.
"I also have a vested interest. I live in Point Douglas, so was very pleased to see that the route on Louise Bridge made it through to this stage as one of the two possible links," he said at an earlier open house at Pantages on Monday afternoon.
"Point Douglas tends to be an area of the city that hasn't seen a lot of good development, and it would be nice to have transit come through … because it might encourage more development in the Point Douglas area."
'A million people by 2035'
Terry Woods, who also lives in North Point Douglas, said he's been following updates on East Transitway since the project was proposed, but he'd like to see more consideration given to active transportation.
"It seems to be that they still want to maintain that vehicle traffic, and I think that more emphasis needs to be put on getting people out of those cars," he said.
Members of the public speak to city staffers at an open house on the East Transitway on Monday afternoon. (Trevor Brine/CBC)
Coun. Matt Allard, chair of the city's Infrastructure Renewal and Public Works Committee, said active transportation is being considered in the designs.
"I think we'll be delivering on that in the next phases of rapid transit," he said.
The project still isn't funded, but Allard said the city will look to the provincial and federal governments for support again, as it did for the Southwest Transitway builds. He pointed to a recent funding announcement from the federal government that would see roughly $500 million flow to transit projects, and said Public Works will soon vote on a report to evaluate the various transitway projects.
"I'm hopeful that we'll also find a partner in the provincial government once council decides what component of rapid transit that they want to build next," he said.
"Winnipeg can't do it all on its own but with the right partners I think we can start getting the job done to serve really what's going to be a transportation network for a million people by 2035."
The open houses will be held between 2 to 4 p.m. and 6 to 8 p.m. each day until Thursday at various locations:
Monday: Pantages Playhouse Theatre, 180 Market Street
Tuesday: Canad Inns Club Regent Casino Hotel, 1415 Regent Avenue West
Wednesday: Notre Dame Recreational Centre,  271 Avenue de la Cathedrale. (French language services provided).
Thursday: Mosaic Event Centre, 1006 Nairn Ave.
[ad_2]