[ad_1]

Being bored is not only normal, it's even good for you.
That was one of the messages delivered by parenting specialist, Dr. Vanessa Lapointe, when she spoke to The Eyeopener on Monday about the thorny issue of summer parenting and how much of it ought to be scheduled.
"Children really do need to be bored," she said. "They need to have long stretches of unstructured time, when they're not being entertained and they're not going from one activity to the next, but rather, they're forced to sit in the stillness of boredom, and when they do, their world becomes quiet enough that they can hear themselves.
"You want your child to be in touch with that part of themselves. It's what allows them to emerge fully into the human beings that they were meant to become."
Structuring time
As far as parents filling every available hole in the summer calendar with an action plan, Lapointe said a little bit of that goes a long way.
"It's partly their job to structure it and partly their job to make sure it's not structured," she said.
"And so the challenge is to strike that healthy balance, between having the routines and things going for our children that help their bodies and minds be healthy, and also allowing them to be children and to allow them to live childhood the way it was intended — which means, you allow them to be bored."
In fact, she added, there's something about leaving whole chunks of the calendar empty that makes plenty of sense.
"There is sort of this space for taking a deep breath, and just kind of relaxing into summer chill time," she said.
Screen savers
On the subject of screen time, she said it's not spying if you're their parents.
"The idea is that you have some up front conversations with them around what the expectations are, specifically in terms of screen time, that you are setting up ways that you can monitor screen usage even from afar — and there's a lot of options available to parents now to be able to do that,  not that you're spying on your children, but rather that you let them know this is just how we're going to keep them in check."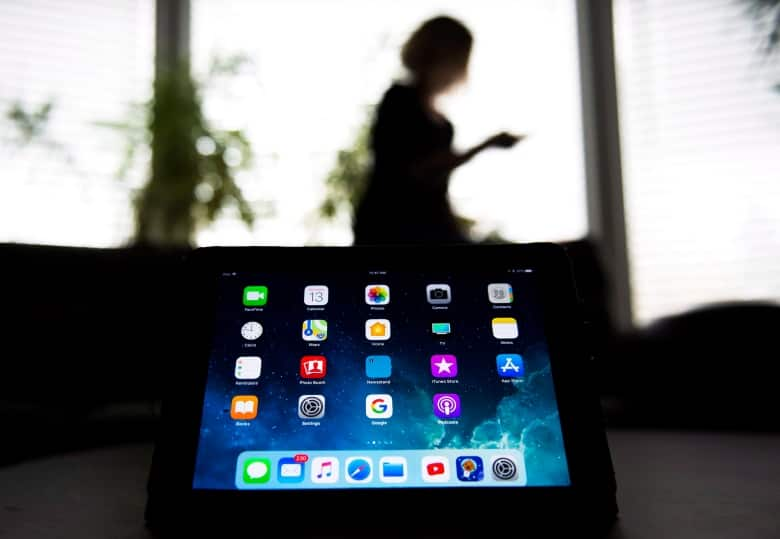 Kids need as much unstructured time as structured time, says a parenting expert, and also to find a balance when it comes to screen time. (Nathan Denette/The Canadian Press)
"And that you look to your village. We weren't meant to go this alone as parents. Are there parents of your children's friends who might be loosely involved? Family members? A neighbour who can peek in on them? Just another pair of eyes and ears who can make sure everything is ticking along as it needs to."
Summer jobs
For teens, one way to help build a bit of structure into their languid summer days is for them to go to work.
"It certainly structures their days for them, perhaps  keeps them out of trouble — and teaches them some valuable life lessons in terms of how it's all going to work," she said. "It's not that that's a terrible thing, but you would also want to make sure that your teen is still getting to be a kid.
"We know that the human brain isn't done growing until somewhere in the mid to late 20's, and so it's really important that all of these things we talk about being really healthy and good for kids, that we hold to that — even for teens."
Day camp trending
Ellen Percival, the editor and publisher of Calgary's Child Magazine, visited The Eyeopener a bit later, delivering the news that there's a new trend in summer camps: the drop-in day camp.
"Parents are sometimes just looking for drop-in or two days a week, so we're seeing more options for that too," she said. 
Percival said the best bet for parents late to signing up their younger children to a summer camp is to try for the potpourri camps offered at community leisure centres, which, she added, offer a pretty rich assortment of activities.
"It's for little ones who don't have a lot of experience with camp yet," she said. "They have music, they have gymnastics, and if there's a pool, there's swimming and outdoor activities. And there's lots of room in those camps typically, because they can take so many people."
As far as specialized camps, they're tougher to book this close to summer, but Percival said there are numerous camps for reptile lovers, aspiring ninjas and rockers, while science, math, and robotics are all on offer at TELUS Spark.
There's theatre, cooking classes at Chateau de Cuisine and  a School of Rock, for aspiring headbangers, which is not to be confused with the camp at the new bouldering centre.
"Fifty-three hundred square feet of space," she said."You can sync your phone to the wall, so you can watch your path going up."
She also praised the camps for special needs kids run by the Calgary Zoo. as well as larger recreation centres throughout the city.
"There's so many, we're spoiled for choices here in Calgary," she said.
---
With files from The Eyeopener
[ad_2]