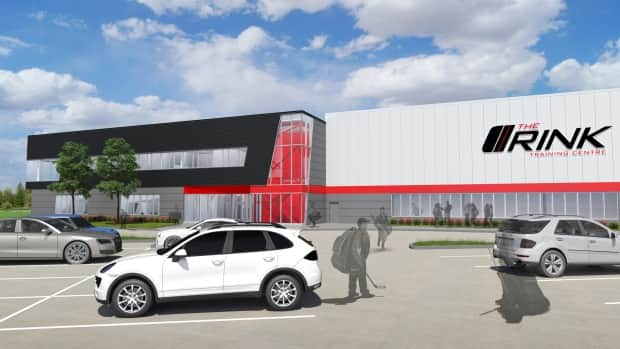 [ad_1]

Top-notch hockey players can expect to lace up next spring in a new Winnipeg ice complex intended to become a  training hot spot for young prospects and up-and-coming goaltenders in Manitoba and across the country.
The Rink Training Centre announced what it calls a 95,000 square-foot "state-of-the-art facility" in a media release Wednesday, saying it expects the year-round facility to be open by spring 2019 in southwest Winnipeg.
Retired NHL player and former Manitoba Moose captain Mike Keane, joined by Brad Rice, Tyler Rice and Tina Jones, founded The Rink Training Centre and began training players in Winnipeg in 2009.
In 2016, it started the Rink Hockey Academy program with the Pembina Trails School Division and Shaftesbury High School.
"We are excited to turn our vision into reality," Brad Rice, The Rink's managing partner, said about the new project, which will be located in the South Landing business park at the corner of McGillivray Boulevard and Loudoun Road.
Gear up
The Rink will offer hockey training and education in southwest Winnipeg in a complex nearly the size of two football fields.
It will house three ice rinks — including an NHL-sized rink that can accommodate 700 spectators — as well as an off-ice training centre and retail outlets for clothing, hockey gear, and skate and nutrition-related services.
The facility will also feature a gym, an indoor track, specialized training ice and a goalie-specific rink, along with spaces for research and lectures.
'Development first'
The founding crew took what they learned from travelling to other cities to develop their own Manitoba-made model.
"My kids were around the rink a lot and, you know, you get standing around arenas," Rice said in an interview.
The Winnipeg facility is intended to offer development options for all ages and skill levels.
"Our philosophy is development first," Rice said.
"We're doing it full time. This is all our coaches do. They're professionals," he said.
"When this is all you do, you tend to get a more hardcore, serious side of the offering."
But "it's supposed to be fun," he added.
Shovels hit the ground late last year for the privately funded $20-million project.
"The new facility will be built by Manitobans and will grow as a draw for Manitoba," Jones said in the press release.
"Being able to provide the most innovative and professionally run programs, for all ages, is an accomplishment not seen in Canada before now."
[ad_2]