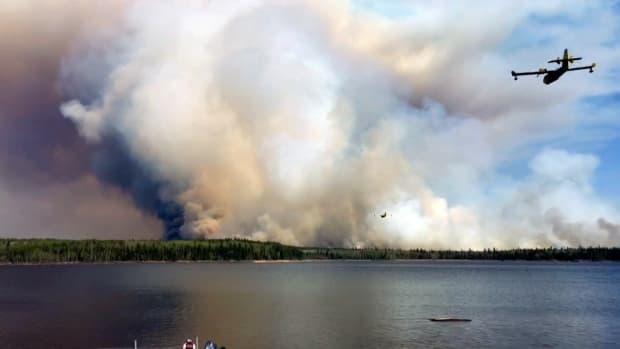 [ad_1]

A Winnipeg member of Parliament is calling for changes in how the province deals with fires in remote and First Nation communities in Western Canada.
MaryAnn Mihychuk, Liberal MP for Kildonan-St. Paul, chairs the House of Commons' Indigenous Affairs Committee, which tabled a report on fire safety and emergency management in Indigenous communities on Tuesday.
She says in Manitoba in particular, there appears to be little co-ordination between the communities and the provincial and federal governments.
"In Manitoba, the chiefs were saying 'we don't know who to phone,'" she told CBC News.
"Every Manitoban is a Manitoban and we all deserve the respect and care, whether you're Indigenous or not."
Currently in Manitoba, response to fires on First Nations is provided by the Canadian Red Cross, which then bills the federal government for the service.
People in Little Grand Rapids, Man., await evacuation as a fire reddens the sky in May 2018. (Submitted by Theresa Eischen)
Mihychuk said there needs to be better co-ordination between the communities, provincial and federal governments in Manitoba when responding to emergencies like the fires that have led to evacuations in Little Grand Rapids and Pauingassi First Nations this spring.
During the mass evacuations last month, officials from the communities were critical of how the federal and provincial governments handled the calls for help.
Mihychuk says Manitoba's Emergency Measures Organization should be in charge of the response to fires in Indigenous communities.
"If a community, no matter if it was Indigenous or not, is going to be engulfed in flames, Manitoba Emergency Measures will be the lead," she said.
"They are on the ground, they know the situation of the fire and they have the capacity to respond."
In an email to CBC News, a Manitoba government spokesperson said the province is working with Indigenous Services Canada to "explore an agreement framework related to the delivery of emergency management services to First Nations in Manitoba.
"This includes a duty to consult trilaterally with Manitoba, Canada, and Manitoba First Nations to ensure any agreement meets the needs of all Manitobans," said the spokesperson.
'Significant gaps'
The report, called From the Ashes: Reimagining Fire Safety and Emergency Management in Indigenous Communities, was ordered in October after a summer of "unprecedented" wildfires led a number of evacuations in Western Canada last year.
The report says more than 5,300 fires burned more than 34,000 square-kilometres in 2017.
The report found First Nations faced 49 wildfire emergencies and more than 12,800 First Nations people had to leave their communities.
The report heard from 47 witnesses from across the country who indicated there are "significant gaps" in the current approach to emergency management and fire safety in First Nation communities.
Those witnesses included Jerry Daniels, grand chief of the Southern Chiefs' Organization, who spoke about last summer's wildfires near Island Lake in Manitoba, which saw thousands of evacuees housed at the RBC Convention Centre in Winnipeg.
He said the conditions were concerning and believes the province should have called state of emergency to open up hotels for elders from the community.
"In this instance, we had thousands of our people at the RBC [convention] centre [in Winnipeg]," he is quoted as saying in the report.
"Many of our elders were on cots.… It's things like that the community had very big concerns with in terms of having all of its young people in a big huge facility," Daniels said.
"The convention centre wasn't set up as a hotel — it didn't have washroom facilities, shower facilities. You need privacy, that was missing," said Mihychuk. 
"There's a lot of things that can be done. Communities are ready and the chiefs are anxious to get on with it but it's going to take investment and working with those communities to make that happen."
Recommendations
The report makes 11 recommendations, including providing better funding for First Nations while ensuring that funding address the "actual needs" of those communities.
It also calls for trilateral agreements between the communities, provincial governments and the federal government to clarify the various roles and responsibilities around emergency management.
It also recommends First Nations' expertise and knowledge of lands and fire behaviour be shared with emergency service providers during and leading up to a response.
Fires burn in Little Grand Rapids, Man., as shown in a Government of Manitoba handout photo from May 2018. (Government of Manitoba)
Mihychuk said steps are already underway to create an independent Indigenous fire marshal's office to promote fire safety and prevention in First Nations communities, another of the recommendations made in the report.
"This will be a significant positive step," she said.
"Those involved in fire safety and emergency measures are having a look at our report as we speak and changes are occurring."
[ad_2]