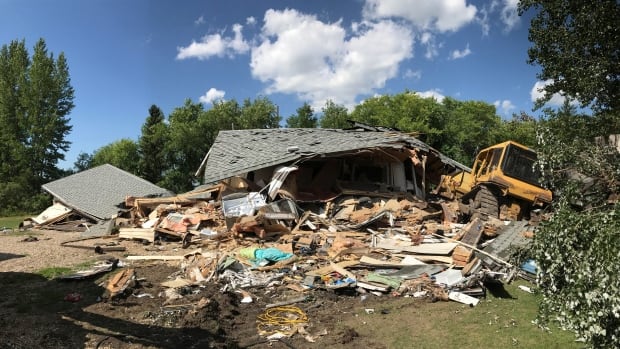 [ad_1]

A Saskatchewan man is headed to prison for the attempted murder of his own son.
Ronald Fatteicher, 60, bulldozed his son's home in the Rural Municupality of Calder last July. He pleaded guilty to attempted murder and received a sentence of five and a half years. With credit for time served he four years remaining.
His daughter-in-law and a neighbour were in the home at the time of its destruction. They escaped without injury.
Police were called to the home just after 9 p.m. CST on July 25, where police were told two people were in a home when a bulldozer drove through it. 
Fatteicher was taken into custody. He was allegedly prevented from fleeing the scene until police arrived by his son.
Fatteicher was sentenced on nine offences — including attempted murder and uttering threats. Another count of attempted murder was stayed.
He will have to submit a DNA sample, was handed a 10-year weapons prohibition and will receive a one-year driving ban after release as he also pleaded guilty to a dangerous driving offence. 
[ad_2]